Storage yard fire destroys RVs in Santa Maria
August 12, 2015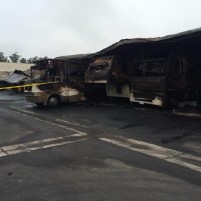 A mysterious storage yard fire burned at least 20 RVs in Santa Maria Tuesday evening. [KSBY]
At 7:43 p.m., Santa Maria firefighters responded to reports of a fire at American Self Storage on Skyway Drive near the city's airport. The fire department initially announced on Twitter that 13 RVs were on fire.
Fire officials later said 10 to 12 RVs burned, and another 10 to 12 had significant fire or smoke damage. The vehicles were described as motorhomes, 40-foot buses, Airstream trailers and fifth wheels.
Clouds of smoke were visible for miles Tuesday evening.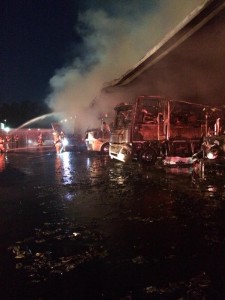 The cause of the fire is not yet known. Initial responders said they saw a couple of propane tanks go off.
Fire inspectors have been sifting through melted plastic and inspecting damaged vehicles. The RVs were being towed overnight for inspection purposes.
Investigators are also reviewing surveillance footage from the storage yard.
It is unclear if anyone suffered injuries in the blaze.