Early and extra raises for Lucia Mar teachers
September 17, 2015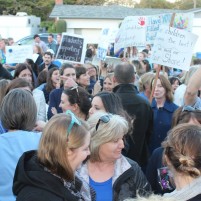 Lucia Mar Unified School District teachers have received another raise, as well as an expedited pay increase, just months after securing an agreement that would bump their pay by 6 percent.
On Tuesday, the district's school board approved a 4 percent raise for teachers that is retroactive to July 1, according to the Lucia Mar teachers union. The teachers were previously slated to receive a 3 percent raise on Jan 1, 2016. The board increased that raise by 1 percent and made it retroactive.
Likewise, the board approved a raise for unrepresented employees and management, according to the Lucia Mar Teachers Association. The union referred to the pay increase for management as a "me too."
In addition to the increased and expedited pay raise, the teachers will also receive a 15.3 percent increase in their benefits cap, according to the union. The board raised the teachers' benefit cap to $10,000.
The Tribune reported the pay raises for the teachers are expected to cost the district an additional $2.03 million during the 2015-2016 school year and an additional $1.37 million in 2016-2017 and 2017-2018. The reported reason for the agreement is an unexpected increase in state funding for K-12 education that appeared in the California budget for the current fiscal year.
In a statement about the pay increases, the teachers association criticized Lucia Mar's former superintendent, as well as critics of the union.
"It goes without saying that this would not have happened under the prior superintendent. We hope that those administrators and others who were critical of the courageous efforts and hard work of LMUTA members and our supporters last year will reconsider their opposition while they are enjoying their raise," a union statement said.
Earlier this year, district administrators and the union averted a strike and ended an eight-month standoff by agreeing to two 3 percent raises for the teachers. The first took effect immediately and the second raise is now in effect as a 4 percent pay increase, as approved by the board Tuesday.
Lucia Mar teachers previously received a 2 percent raise in 2012-2013 and a 4.3 percent bump in pay in 2013-2014.
Shortly after Lucia Mar averted a strike, then-superintendent Jim Hogeboom announced he was taking a job as a superintendent in Marin County.