Panga beaches on Gaviota coast
September 29, 2015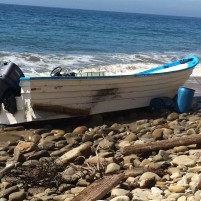 Authorities arrested two Riverside area men Monday after a panga boat beached in Santa Barbara County.
Law enforcement personnel found the panga at San Onofre Beach within the Gaviota State Park. A resident first noticed the boat around 9 a.m. when he was walking his dog on a trail above the beach.
Santa Barbara County Sheriff's deputies, state parks personnel, a Coast Guard helicopter and Santa Barbara County Air support responded to the scene.
The panga was a twin-engine drug smuggling boat, approximately 30 feet in length, according to the Santa Barbara sheriff's office. Responders found one marijuana bale inside the boat and another nearby.
There were fuel barrels inside the boat and in the water. The occupants of the boat left items strewn about the area, according to the sheriff's office.
Authorities located two male suspects in the area and detained them.
Officers charged Francisco Soltero, 32, and James Pierce, 38, Soltero with possession, transportation and sales of marijuana, as well as being under the influence of a controlled substance and  booked them into the Santa Barbara County Jail.
The Department of Homeland Security is conducting a joint investigation with the sheriff's office. Homeland Security investigators took possession of the panga.