Arroyo Grande City Council approves Tompkins' project again
October 9, 2015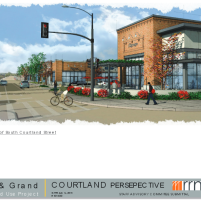 A month after approving a mixed-use project planned by developer Nick Tompkins, the Arroyo Grande City Council again approved the development. [Tribune]
Tompkins, the owner of development firm NKT Commercial, is planning to build a high-density housing and mixed use project on a a 4.5-acre lot at Grand Avenue and Courtland Street. The project includes 38-single family homes, four condominium units and 15,600 square feet of commercial space.
On Thursday, the council voted 3-2 to approve the project with Mayor Jim Hill and Councilman Tim Brown dissenting. The council also approved an amendment to the general plan, which was required in order for Tompkins to move forward with the development.
The council approved the project in its entirety on Sept. 8, but it reheard the issue because of a noticing violation that occurred prior to the meeting. San Luis Obispo County activist Julie Tacker discovered a notice announcing the meeting that the city sent out to nearby property owners contained the address of City Hall rather than the address of the council chambers.
Tacker submitted a Brown Act complaint and requested the council redo the hearing.
During the redo hearing, nine members of the public spoke against the project, and eight made public comments in favor of the project.
Tompkins previously proposed building a retail center at the site of the project, but the council did not give him final approval. Tompkins received final approval for the current project despite objections from the city planning commission.
Critics objected to the density of housing Tompkins is building and the conversion of land previously zoned for commercial activity into residential space.