K9 bites suspect this time in Arroyo Grande
October 22, 2015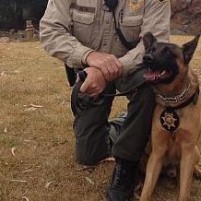 Unlike a recent pursuit in Arroyo Grande, a police chase Wednesday ended with a K9 biting the leg of the suspect. This is the third time a Central Coast K9 officer has bit another officer or a suspect in less than a month. [KSBY]
An Arroyo Grande Police officer who was patrolling in the area of Sierra and Hillcrest drives recognized the man who police said had been evading officers for weeks because of multiple felony warrents.
Upon noticing the officer, the suspect took off in a vehicle and later fled by foot. For more than an hour, Arroyo Grande Police, with the assistance of the Grover Beach police and a California Highway Patrol helicopter, searched for the suspect.
Officers found the suspect in a home near the Ocean View Elementary School. The homeowners were not home at the time.
The suspect allegedly fought with officers, who then took him into custody with the help of a K9 who bit the suspect in the leg.
Police have not yet released the name of the suspect. The man was examined for possible injuries to his leg from the K9 bite and taken to San Luis Obispo County Jail.
Late last month, a San Luis Obispo sheriff's K9 tasked with catching a fleeing car thief in Arroyo Grande bit a CHP officer who was also pursuing the suspect. Officers then charged the suspect with resisting arrest resulting in serious bodily injury to a peace officer.
On Saturday, a K9 bit another Central Coast officer. While police were confronting a transient wedding crasher in Santa Barbara, the K9 bit an officer by mistake.