Steve Gesell seeking work in Arizona
December 11, 2015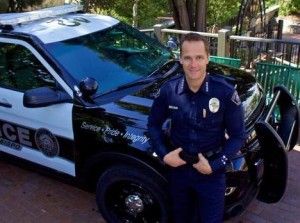 Former San Luis Obispo police chief Steve Gesell, who was forced out of the top cop job in SLO earlier this year, is now pursuing work in Cottonwood Arizona. [KSBY]
The Cottonwood Police department serves a population of about 40,000 people. The current chief is retiring in Jan. 2016, and city officials would like to have a new chief in place at that time.
Gesell left the San Luis Obispo job in May after a feud with City Manager Katie Lichtig. Gesell received a $120,000 severance package, and Lichtig has not disclosed specifically why she chose to part ways with Gesell.
In January, CalCoastNews reported Gesell violated city travel reimbursement policies on several occasions, often making the city foot the bill for conferences that turned into family trips. Around the same time, Gesell applied for the police chief job in Chico.
However, Gesell told SLO police staff he had no plans to leave the city, and his attorney stated the same publicly, even as Gesell became a leading candidate for the Chico job. Gesell withdrew his candidacy for the position shortly after members of the Chico police union visited San Luis Obispo to investigate Gesell's background.