Nurse alleges sexism at ASH
January 14, 2016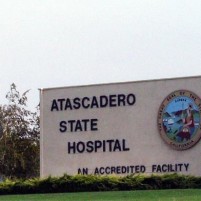 In a civil trial underway at the Paso Robles Courthouse, a former Atascadero State Hospital nurse is alleging her former supervisor discriminated against women and left her alone with ASH patients in dangerous situations. [Tribune]
Janet Ochotorena, 53, was hired as a nurse in 2008.  Four years later, psychiatric technician Alfred Sweet became her supervisor.
According to the 2014 lawsuit, Sweet then began leaving Ochotorena alone with patients in showers, as well as in a hallway where six patients surrounded her.
ASH policy requires employees to work in groups of at least three at all times.
Ochotorena reported Sweet's actions to his supervisor, but Sweet's supervisor took no action, according to the lawsuit.
After Ochotorena complained, Sweet allegedly said, "See what happens to female staff that don't listen or do what I say." Ochotorena also claims Sweet told her coworkers, "everyone knows what a bitch Janet is."
Additionally, she alleges her supervisors said, "The last woman to mess with me I had moved off the unit."
Ohcotorena was, as well, transferred to another unit, where Sweet's supervisors became her supervisor.
Around that time, Sweet began stalking Ochotorena in the ASH parking lot, she claims. Sweet allegedly would wait until Ochotorena got out of her car and then enter the state hospital.
The plaintiff's attorney says Ochotorena went on medical leave in May 2013 and has not since been cleared to return to work.
On Tuesday, a former co-worker of Ochotorena testified. Psychiatric technician James Clark said Sweet was flippant and demanding with women and more friendly with male staff.
Clark testified he witnessed Ochotorena left alone with patients under Sweet's supervision. Clark also agreed Sweet's sexist attitude created safety issues for female workers.
In the lawsuit, Ochotorena is alleging sex and gender discrimination, harassment and retaliation. She also claims the Department of State Hospitals did not take action against Sweet.
The Department of State Hospitals claims Ochotorena has not proved that any of the incidents she alleged to have occurred actually happened. The state also argues Ochotorena's emotional or mental distress was caused either by pre-existing conditions or something outside the scope of her employment.