San Luis Obispo bank robber on the loose
January 4, 2016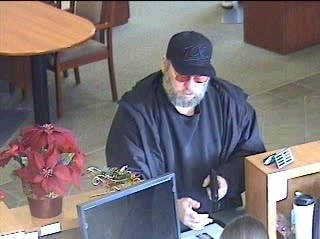 San Luis Obispo police are looking for the man responsible for robbing a San Luis Obispo bank on Monday afternoon. [KSBY]
At about 2:22 p.m., the man entered the Heritage Oaks Bank on Froom Ranch Way near Home Depot armed with a handgun. One of the tellers then activated the silent alarm.
When police arrived, they discovered the robber had fled with more than $5,000.
Witnesses describe the robber as a white man, in his late 50s to early 60s, with blond hair and a thin grey beard. He was wearing amber-tinted glasses, a black baseball hat and a black jacket.