Van combusts at SLO park
January 12, 2016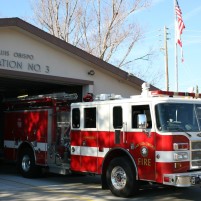 A van parked at Santa Rosa Park in San Luis Obispo combusted Sunday afternoon. The owner of the van suffered minor burns in the vehicle fire and was taken to the hospital. [Tribune]
San Luis Obispo firefighters responded to the blaze around 2:45 p.m. They arrived within minutes and found a 1998 Chevrolet Astro van that was engulfed in flames.
Firefighters quickly extinguished the blaze, but the fire destroyed the vehicle. The owner suffered minor burns to his hands. He was taken to Sierra Vista hospital and released.
No one else suffered any injuries. The blaze did not damage any buildings, but a nearby tree endured fire exposure.
San Luis Obispo police say the fire is suspicious. Some suspect drug manufacturing may have caused the fire.