Three killed by trains on Central Coast, SLO victim identified
January 11, 2016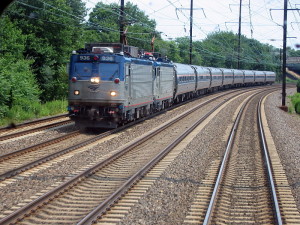 The San Luis Obispo County Coroner's Office has identified Aaron Matthew Wolf as the man killed by an Amtrak train Saturday night near San Luis Obispo. Wolf was one of three individuals who were struck and killed by trains on the Central Coast on three consecutive days.
A train struck Wolf around 8:15 p.m. about a mile south of San Luis Obispo. The accident occurred east of Sweet Bay Lane, according to the San Luis Obispo County Sheriff's Office.
Emergency responders pronounced Wolf dead at the scene. Investigators have yet to determine the circumstance that led to the train hitting Wolf. An autopsy is scheduled to take place Wednesday.
Wolf was reportedly in his 20s. Authorities also have yet to release Wolf's age and city of residence.
Pedestrians were also killed by Amtrak trains in Santa Barbara County on Friday afternoon and Sunday morning.
A train struck a man around 4:30 p.m. Friday as it was approaching Lookout Park in Summerland. The man, who appeared to be in his 50s, was standing on the tracks and did not move as the train approached, according to the Santa Barbara County Sheriff Office.
The conductor sounded the train's horn repeatedly and conducted an emergency stop but did not manage to avoid the collision.
Around 9:15 a.m. Sunday, a train killed a 19-year-old woman in Goleta below the Glen Annie/Storke Road overpass. Witness statements suggested the woman's death was a suicide.