Man stabbed during argument over sunglasses
February 11, 2016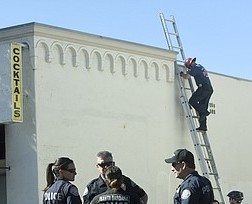 One man is in the hospital with three stab wounds and another is in jail following a violent dispute over a pair of sunglasses outside the Sportsman in Santa Barbara on Wednesday.
Shortly after noon, while people ate their lunches at local eateries, the men began arguing near the corner of State and Figueroa streets. The arguments escalated as the men walked down Figueroa Street towards Norton's Pastrami and Deli.
The men then faced off, and one of the men ripped the sunglasses off the face of the other man and tossed the sunglasses on the roof of the Sportsman, a small dive bar. The suspect then stabbed the man who took his sunglasses three times in the face and upper body. The wounds were non-life-threatening.
After the stabbing, the suspect tossed the knife up on the roof near his sunglasses, called 911 to report the stabbing and was arrested by police.
Get links to weird and the crazy news, like CCN on Facebook.