Pedestrian killed in Grover Beach identified
February 16, 2016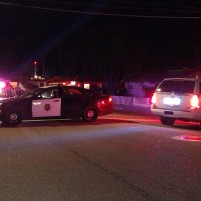 The Grover Beach Police Department has identified a pedestrian killed Monday evening near the High Tide Market as 48-year-old Christopher Dale Hall.
Shortly after 9 p.m., Hall was attempting to cross the road with his walker near the intersection of 4th Street and Brighton Avenue when a white BMW struck and killed him. Emergency personnel pronounced the Hall dead at the scene.
The driver of the BMW waited at the scene and cooperated with the investigation.
It is currently unknown if alcohol or drugs were a factor in the accident. The investigation is ongoing.