State attorney charged over SLO courtroom brawl
February 18, 2016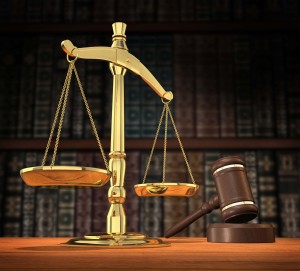 San Luis Obispo County prosecutors have charged a state attorney with a misdemeanor count of resisting a peace officer for her role in a courtroom wrestling match with a bailiff. California Deputy Attorney General Jennie Mariah Kelly will appear in San Luis Obispo Superior Court for an arraignment hearing Thursday morning.
On Oct. 20, the bailiff, a San Luis Obispo County Sheriff's deputy, wrestled Kelly to the ground of a SLO courtroom. The incident occurred during trial recess in a wrongful termination case against the California's Men's Colony and the Atascadero State Hospital.
The bailiff arrested Kelly for resisting or obstructing a peace officer.
During the case, Superior Court Judge Barry LaBarbera admonished Kelly several times for her courtroom demeanor. When LaBarbera called a 15 minute recess on Oct. 20, Kelly began shouting and acting in an unprofessional manner toward the opposing attorney, according to a sheriff's office report.
In a video recording of the incident, Kelly is seen waving her pen and speaking to the opposing attorney. The bailiff then approaches Kelly, and the two begin arguing.
The bailiff appears to grab both of Kelly's hands and hold onto them for a few seconds until Kelly jerks away. Kelly and the bailiff then struggle, and the deputy takes her to the ground.
Kelly reemerges into the video screen shortly later with her hands cuffed behind her back. She was then cited and released.
Attorney Kara Stein-Conway, who is representing Kelly, said the bailiff battered her client. Stein-Conway said the incident was a gross and unjustified overreaction to lawful conduct by Kelly. The bailiff battered her, forced her to the ground and pressed her head up against a metal rail, the defense attorney said.
The sheriff's office says Kelly refused the bailiff's attempts to calm her.
Kelly returned to court the day following her arrest and continued defending the state. The trial ended Nov. 9 with a judgment that favored the state.