Nipomo High locked down over BB gun fire
March 16, 2016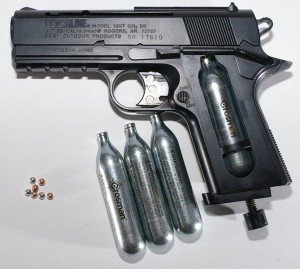 Officials locked down Nipomo High School for about 45 minutes on Tuesday after BB gun pellets were fired about five blocks away from the campus. Soon after, sheriff's deputies arrested three teens and two 21-year-olds on assault with a deadly weapon charges. [KSBY]
Around 11 a.m., the San Luis Obispo County Sheriff's Office received reports of shots fired at a home in the 100 block of South Mallagh Street in Nipomo. Investigators responded to the scene and determined a BB gun was used to fire the shots.
No one suffered injuries due to the BB gun fire. The high school lockdown was lifted after investigators identified the firearm as a BB gun.
Shortly afterwards, deputies stopped a car matching the description of a vehicle involved in the shooting. Deputies arrested all five people who were inside the vehicle.
Two of the suspects were 15 years old, one was 18 years old and two were 21 years old. All the suspects were males.
The sheriff's office says it is still investigating the BB gun shooting and trying to determine a motive.