Woman flees CHP on Paso Robles train tracks
April 5, 2016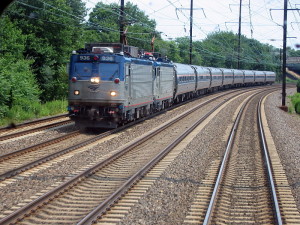 A driver fleeing the California Highway Patrol put a halt to train traffic in Paso Robles Monday night. The driver attempted to get away from officers by driving on the dirt embankment beside the railroad tracks.
Shortly before 10 p.m., Deborah Marotto, 41, fled in her Honda Pilot after an officer tried to pull her over for going 95 mph in a 55 mph zone on Highway 46 West.
Marotto drove onto northbound Highway 101 and continued to flee at speeds of over 110 mph. She then took the Spring Street off ramp, crossed the dirt shoulder and drove onto the dirt embankment beside the train tracks.
CHP officers followed her down the tracks for a short distance until she gave up. Officers arrested Marotto after she stopped her SUV.
Union Pacific stopped train traffic until the scene was cleared.
Officers said drugs and alcohol did not appear to be factors in the chase.
Marotto is charged with a single count of felony evading an officer, according to the San Luis Obispo County Sheriff's Office website. She remains in the county jail with her bail set at $25,000.