Santa Maria company plans to lay off 168 employees
May 13, 2016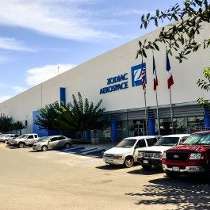 By John Lindt, publisher of Sierra 2 the Sea
Santa Maria's largest private employer, French-owned Zodiac Aerospace, will lay off 168 workers on June 22, according to a state notice published this week. The company employs about 1,800 workers in Santa Maria.
For the first nine months of the fiscal year, Zodiac Aerospace revenue in the seat division was down 4.2 percent. In a March financial report to its shareholders, the company voiced concerns with the Santa Maria operation.
"The recovery and industrial transformation plans for the seats branch are proving long and costly, especially at its seat-shell manufacturing site at Santa Maria, California," the report says.
Zodiac Seats U.S. is one of the world's top manufacturers of commercial aircraft seats for airlines and commercial aircraft manufacturers. Its headquarters and primary manufacturing facility is located in Gainesville, Texas with final assembly lines located in  California and China and a component manufacturing facility in Mexico.
The Santa Maria division specializes in passenger seats for regional aircraft manufacturers.
Calls to the corporate office in Huntington Beach were not returned.