Two die as homebuilt plane crashes in Ventura County
May 30, 2016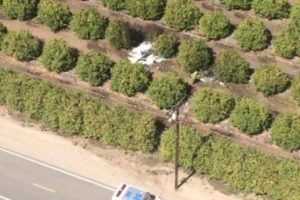 A homebuilt plane crashed in a lemon orchard in Ventura County Saturday afternoon, killing both of the people onboard. The crash occurred in Santa Paula, just north of the city of Ventura. [KABC]
On the way down, the plane collided with power lines, knocking out power in neighboring homes. The aircraft burst into flames after it crashed, and the wreckage was unrecognizable.
Investigators described the plane as a single-engine VariEze, which is a small, homebuilt aircraft. It is believed the plane took off from Santa Paula Airport. The intended destination is not known.
Another pilot in the area said he heard the pilot of the homebuilt plane reporting engine failure and saying he planned to make an emergency landing near a riverbed. Investigators have not determined the exact cause of the crash.
Authorities have yet to identify the victims.