Ax-wielding man attacks campers, officer fight back
June 12, 2016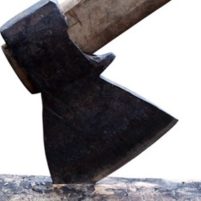 An ax-wielding man attacked fellow campers, officers and a firefighter during a Saturday rampage at the Santa Ynez River Recreation Area in Santa Barbara County.
At about 3:45 p.m., callers reported a fellow camper was combative and appeared to be on drugs. Ilya Yegudkin, 25, of Los Angeles allegedly cut up his tent, vandalized a car, threw axes as other campers and assaulted several people including an elderly man who had been sitting in a truck.
"The male subject was reportedly wielding two axes and had thrown them at people," Santa Barbara County Sheriff officials said in a press release. "He had also attempted to fight a Santa Barbara County Firefighter who responded to the scene."
When deputies arrived, they located Yegudkin who attempted to fight with them. During the struggle to detain him, one deputy received a facial laceration.
While trying to subdue Yegudkin, deputies utilized pepper spray, a Taser gun, a bean bag shotgun and police batons. During the arrest, officers injured Yegudkin who was transported to a hospital where he was admitted.
The injured deputy was treated and released from the hospital.
Yegudkin was booked in absentia on charges of assault with a deadly weapon, felony resisting arrest, battery causing serious injury and physical elder abuse. Once he is released from the hospital he will be booked into the Santa Barbara County Jail.