SLO County orders Justin Vineyards to stop removing oak trees
June 10, 2016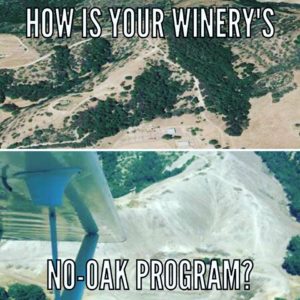 In preparation for planting grapes, workers removed hundreds of oak trees from a rural Paso Robles property managed by Justin Vineyards. After receiving numerous complaints from neighbors, county officials issued a stop-work order. [Tribune]
The property, located at 750 Sleepy Farm Road, is owned by Estate Vineyards, which also owns Justin Vineyards.
San Luis Obispo County Supervisor Frank Mecham said, in recent days, neighbors have complained about the removal of oak trees, earth moving and the construction of a large water storage pond.
On Thursday morning, Mecham met with about 12 of the neighbors Thursday morning. Mecham said he told the neighbors, as well as owners of nearby vineyard, to petition the board of supervisors to adopt an ordinance that would ban the removal of stands of old-growth oak trees.
Neighbors say that oak trees make Paso Robles beautiful and removing them destroys the landscape. Likewise, neighbors are concerned that the Justin Vineyard-managed project may cause their wells to go dry.
Farmer Neil Heaton said he is concerned his well will go dry as a result of the pumping required to fill a 20-acre-foot storage pond. Heaton dry-farms 20 acres of wine grapes and 20 acres of walnuts on an adjacent 85-acre property.
Art Trinidade, the county's building department supervisor, said removing oaks on agricultural land is not prohibited. But, grading that occurred on the property in question may constitute a code violation. The grading took place on steep slopes, creating the possibility of erosion and creek sedimentation, Trinidade said.
Code enforcement officials inspected the property Thursday morning and issued the stop-work order Thursday afternoon. The county planning department will determine next week whether code violations occurred.