SLO man dies after questionable fall from rooftop
September 24, 2016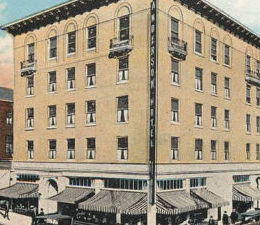 The body of a 72-year-old man was discovered Friday afternoon on the first floor rooftop of the Anderson Hotel on Monterey Street in San Luis Obispo. He had fallen from an apartment on an undisclosed upper floor.
Police investigators are working to determine if the man's fall was criminal or accidental, police said.
Shortly after 1 p.m., police responded to a report of an injured person on a rooftop and discovered a man suffering from significant injuries. Emergency responders transported the victim to Sierra Vista Regional Medical Center, where he was pronounced dead.
Officials are not releasing the man's name until after his family has been notified of his death.
Police are asking anyone with information about the fall to call the police department at 805-781-7312 or leave an anonymous tip at Crime Stoppers at 805-549-STOP.