Is California facing a deadly earthquake?
October 9, 2016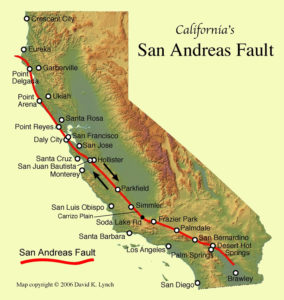 Geologists have increased the odds of having a major quake on the San Andreas Fault due to an earthquake swarm near the Salton Sea from 1 in 3,000 to 1 in 100 for the following week. [Scientific America]
Does the swarm mean California will be hit with a massive earthquake in the next week? Probably not.
In determining the odds of a major earthquake, Scientists examine not only recent earthquake swarms but also the reoccurrence rate on the fault.
The Salton Sea is located in Imperial and Riverside counties in an area that historically witnesses a magnitude-7 earthquake or larger every 175 to 200 years. However, there has not been a major quake in the area for 300 years.
"In the terminology that seismologists use, this is forecasting – estimating the rate of earthquakes, not predicting – which is guessing when, where, and how big will be an upcoming quake," according to John  Vidale of the Pacific Northwest Seismic Network. "Also, forecasts tend to be longer odds, while if one says an earthquake is definitely going to happen, we consider it more of a prediction, even if the location is vague."