Morro Bay City Council fails again
October 20, 2016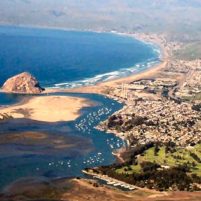 OPINION by LINDA STEDJEE
Morro Bay's water reclamation facility (WRF) project costs are approaching $3 million, but there is little to show for all that money. The city hasn't even bought land to put the plant on, the new design has the same flaw as the old one rejected in 2013, and timely project cost data appears to be unavailable.
The city has spent a tremendous amount of money and essentially gotten nowhere.
In spite of all this, Morro Bay's City Council members and mayor don't appear to believe there are any serious problems. There are. The City needs to stop, step back, and rethink its plans before wasting even more of our tax money.
In 2013, the Coastal Commission told the city that its plans for a new sewer plant were flawed.  The commission asked that the new plant be relocated inland, so that it would be safe from several natural hazards: inland flooding, tsunamis, earthquake liquefaction damage, and sea level rise.  The ongoing project was halted and a new one, known as the WRF project, was initiated.
The new plant design includes three critical pieces of infrastructure: 1) The plant itself, where sewage will be treated and (eventually) re-usable water will be produced. 2) A massive lift/pumping station to be placed on the property where the current sewer plant is located. 3) A pipeline that will carry the sewage from the lift station to the plant. These three pieces of infrastructure are a system. If any one of them fails, the system fails.
Currently, the city hopes to build the plant at what is referred to as the "South Bay Boulevard site", which is located north of the Casa de Flores assisted living facility, near the intersection of South Bay Boulevard and Highway 1. Two other sites that the mayor and council previously supported, the Rancho Colina and Righetti sites, were eventually rejected.
Whether the latest potential site will ever be used is unknown.
The natural hazards that exist at the site rejected by the Coastal Commission are not present at the South Bay Boulevard site. However, those hazards are present at the site of the current sewer plant, and that is where the city plans to put the huge lift station that is necessary for the new plant to operate.
Project team members have said they have to put the lift station there, because that is where all the sewer lines from the city converge.
If the lift station failed, there would be no way to get the sewage to the new plant.  So, building the new plant inland would not address the commission's concerns because, in the end, the new wastewater treatment system would be just as vulnerable to natural hazards as the old one. Yet it would cost, according to current estimates, well over $100 million.
This situation was initially pointed out by Morro Bay Planning Commissioner Richard Sadowski, who suggested that since the new design is no safer than the original one, we might as well put the whole plant on the old Hanson's Concrete plant site, which is on city-owned land. The property is east of, and on slightly higher ground than, the site of the existing plant. This could save taxpayers tens of millions of dollars, and would eliminate the need for the lift station and the long pipeline.
Initially, some project team members claimed that there was no problem with the lift station site because the tanks would be underground and thus, supposedly, safe from flooding. When the mayor and council were advised that some sewer plants also have their tanks underground, and told that such plants could be made just as safe as a lift station, there were no comments from the project team or from staff.
Meanwhile, as our money continues to be spent on a design "solution" that seems to be no solution at all, nobody seems to have a handle on project expenditures. At the Aug. 9 City Council meeting, the only consulting cost information provided to the mayor and council was in the "Water Reclamation Facility Advisory Committee Quarterly Budget Review Summary 4Q15/16."
That report was, at the time, over three months out of date, and it came from a citizens' advisory committee, not the project manager. There was no consulting cost data for the period from May 1 through Aug. 9. No one seemed to think that was a problem.
On Aug. 18, I submitted a public records request for reports showing more recent consulting costs, broken out by consultant and by high-level task. I was told that no such report existed, but was given a 51-page city general ledger transaction list so that I could do my own research and find the data I wanted.
According to my calculations, using data from that general ledger transaction list, consulting expenses for May 1 through Aug. 9 totaled $264,640.49. Of that, $194,211.01 was paid to just one consultant. That sounds pretty high to me, but the mayor and council didn't know about it at their Aug. 9 meeting, so they couldn't question it
When I subsequently complained about the lack of timely financial data to support good management of our tax dollars, Councilman John Headding emailed me and said, "detailed review of project costs at the level provided by our quarterly reports is a prudent way of overseeing and monitoring this important community project and managing our taxpayer dollars."  I say he's wrong. It isn't.
That general ledger transaction list I received shows that, on Oct. 30, 2015, the city paid an invoice totaling $42,205.50 for "project management software" for the WRF project. That seems like lot of money, although reviews indicate this is pretty much the ultimate construction project management software package. Unfortunately it appears that its very expensive capabilities are not being used effectively, if at all.
Per the software vendor's website, this software includes tools that allow its users to "provide visibility into the financial status of the project," and to "track expenses against budgets in real time." I am a retired project manager, so I know those are standard features. You have to establish specific objectives, and then track your progress against them, or you are not managing at all.
None of my clients would ever have tolerated out-of-date financial data on a project, but evidently, the Morro Bay mayor and council didn't mind.
The problem here is, of course, that without current financial data for the project, the mayor and council can't tell if we are getting a good return on our tax dollars or if, as seems to be the case with the WRF project, a very poor return.
Some people don't seem to think that the mayor and council have any responsibility for WRF project failures. In its endorsement of the incumbent mayor, the editorial board of one local news source said it was absurd for critics to hold the mayor personally responsible for project delays, and that it is staff and the consultants who are responsible for the project work.
I take major exception to that. We do not vote for staff. We do not vote for consultants. We vote for the mayor and council members. We expect them to be good stewards of our tax dollars, to monitor the work of staff and consultants, and to make sure those dollars are not being wasted.
In the case of the WRF project, they have failed miserably.
Some say we can't stop the project now, and must continue down the road we're on. I think that is simply an attempt to save face and avoid admitting that the WRF project is a colossal failure and needs to be totally rethought. We have to stop throwing good money after bad. If we don't do that, we risk bankrupting the city, and with our ever-rising sewer and water bills, a lot of taxpayers along with it.