California mosques threatened with genocide
November 28, 2016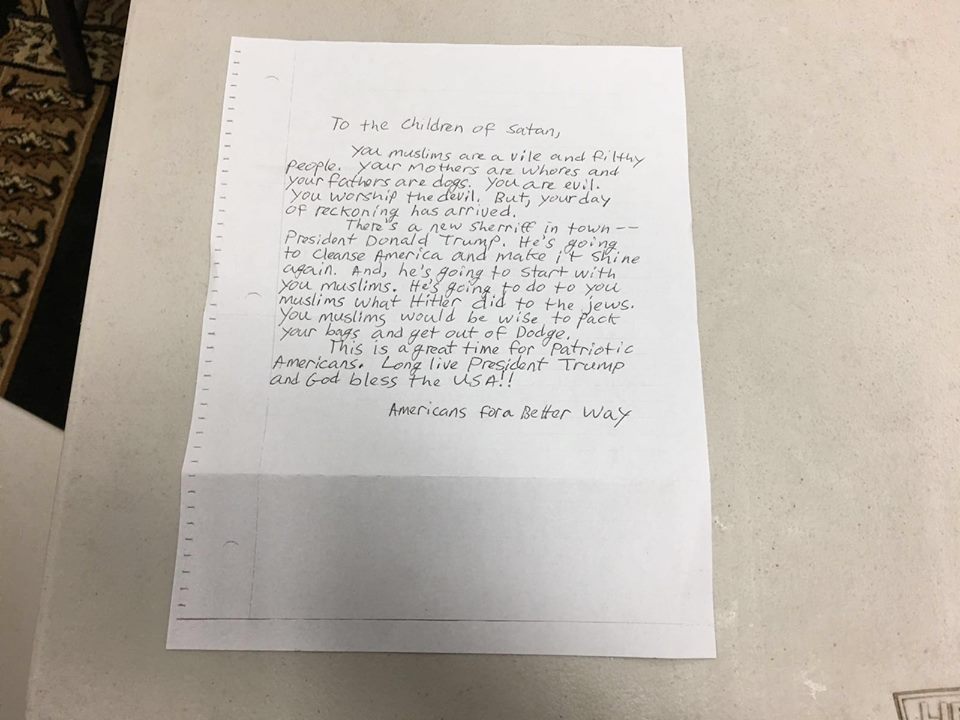 Three California mosques have received an anonymous letter stating President-elect Donald Trump will "do to you Muslims what Hitler did to the Jews." [SF Gate]
San Jose police launched an investigation into the threatening letter Thursday night after the imam at the Evergreen Islamic Center found it in the mail. The leaders of two Southern California mosques, the Long Beach Islamic Center and the Islamic Center of Claremont, said they received the same letter.
Each of the letters was signed by "Americans for a Better Way." Authorities have not stated whether they have determined who is behind the letters.
San Jose police are treating the letter as a "hate-motivated incident," spokesman Sgt. Enrique Garcia said.
"There's a new sheriff in town — President Donald Trump," the letters state. "He's going to cleanse America and make it shine again. And he's going to start with you Muslims."
The letters also address Muslims as the "children of Satan" and "vile and filthy people," and it says, "You Muslims would be wise to pack your bags."
Faisal Yazadi, the president of the San Jose mosque's board of directors, said he hoped the person who sent the letter would engage in a conversation with their community.
"Our doors are never locked," Yazadi said. "I hope that person knows that we're more than happy to have a dialogue. Hopefully, we learn a thing or two from him or her, and he or she learns something from us."
Tarek Mohamed, the chairman of the Long Beach mosque, said the situation warranted FBI involvement.
"The local police is limited by the city," Mohamed said. "If we have mosques being threatened across the state, it's not a local thing. We need some higher authority to investigate."
Zaire Biloo, the executive director of the Bay Area chapter of the Council on American-Islamic Relations, said Trump's campaign promises and rhetoric made some of the president-elect's supporters feel validated in their Islamophobic views.
"In some ways it's a threat from the individual," Biloo said. "But in other ways it attempts to threaten the community through the power of the presidency."