Car with Trump bumper sticker torched in Santa Maria
November 16, 2016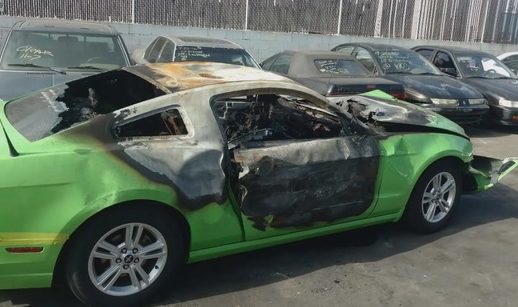 An arsonist allegedly set fire to a car in Santa Maria on Sunday that had a Donald Trump bumper sticker. [KCOY]
On Sunday evening, a driver parked a green Ford Mustang in a lot in front of the popular El Pueblo Mexican restaurant, as well as the John Deere complex and Walmart shopping center on Blosser Road. Around 6 p.m., flames erupted from the Mustang which had been severely vandalized, officials said.
Santa Maria Fire Battalion Chef Mike Barneich said the incident is currently under investigation as an arson, and it might have been politically charged.
Barneich said the fire started in the passenger compartment and extended into the motor area. Firefighters controlled the blaze within a few minutes.
The owner of the Mustang said he lost most of his personal belongings and irreplaceable personal items in the arson attack. He confirmed his car had a Trump bumper sticker on it but would not comment further on the incident.
Authorities have not made any arrests. There were a lot of witnesses at the scene, but none of them have spoken with authorities, Barneich said.
Surveillance cameras failed to capture any suspects in the case. It is believed that it was either too dark outside or the cameras were not working properly at the time.