Election Night: Local parties to crash
November 8, 2016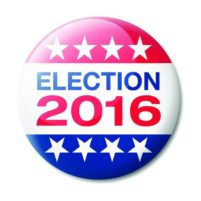 An unusually heated election cycle, both nationally and in San Luis Obispo County's District 3, is drawing to a close. Likewise, the slugfest of the Cunningham-Ortiz-Legg State Assembly race is wrapping up. Who will have reason to party tonight? And who will be drinking away their sorrow?
CalCoastNews will have live updates on the results of local races, as well as some national coverage, starting shortly after the polls close at 8 p.m.
In addition to revealing the results, CCN will be tracking the local watch parties. If you happen to be attending one, snap some photos — smiles and frowns are welcome — and send them to jfriedman@calcoastnews.com.
8:01 Trump is leading Clinton in the presidential race. The networks are reporting Trump has won Ohio and is leading in several battleground states.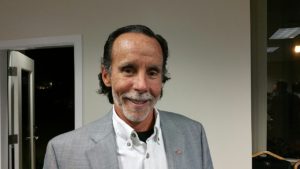 8:19 SLO Councilman Dan Carpenter is the man of the hour at a San Luis business park gathering. Will Carpenter succeed in dethroning District 3 Supervisor Adam Hill? Initial results coming…
A couple familiar faces in the county who are aligning with Carpenter:
8:35 Out of the gates, Carpenter is not looking good. Initial results (mail-in ballots):
Hill: 58.90
Carpenter: 40.94
8:40 District 1
John Peschong: 54.85
Steve Martin: 45.07
8:44 Caren Ray and Kristen Barneich are leading in the Arroyo Grande council race. SLO Mayor Jan Marx is leading in her reelection bid.
8:53 Congress
Salud Carbajal:  52.21
Justin Fareed: 47.9
8:56 Assembly
Cunningham: 54.5
Ortiz-Legg: 45.5
8:59 Pictured above, Arroyo Grande Mayor Jim Hill has a large early lead over challenger Richard Waller.
Hill: 59.23
Waller: 40.68
9:10 Initial Measure J (county road tax) results:
Yes: 64.23
No: 35.77
The tax measure needs a two thirds vote to pass.
9:19 Elsewhere in South County, it appears John Shoals will be reelected Grover Beach mayor and Debbie Peterson will rejoin the Grover Beach council. Pismo Beach Councilman Ed Waage appears poised to move up to the mayor's seat, and Erik Howell, despite his Coastal Commission controversies, is leading a fairly close three-way race for two Pismo council seats.
9:27 In the incumbent-free SLO Council race, establishment-backed candidates Andy Pease and Aaron Gomez are leading the field of six.
9:47 Party photos:
10:04 California voters are supporting Prop. 57, the early release for "non-violent" criminals measure. That result is not to the liking of Peschong supporter San Luis Obispo County DA Dan Dow.
Dow has released a statement on Prop. 57 passing:
"I am deeply saddened that a majority of California voters were misled to believe that the early release of prisoners from state prison would only apply to truly nonviolent crimes. The initiative system must be changed immediately to ensure in the future, that voters are given the truth by an objective and independent third party. Sadly, an individual or group with millions of dollars and a few nice sounding buzzwords can buy the necessary votes to create a bad law by crafting a message that sounds great but in reality is not truthful. Much progress made in the last 40 years in California to hold career criminals accountable has just been thrown out the window.  Our office remains committed to our mission of pursuing justice for victims of crime and holding offenders accountable."
10:26 On vice, California appears to have legalized marijuana. Prop 64 has 55 percent approval. The state does not appear to be posed to force porn actors to wear condoms. Prop 60 is currently failing: 47-53. That should mean political ads will no longer obstruct California residents' porn watching habits.
10:38 With 50 of 160 precincts reporting, it looks like Hill has locked up his reelection.
Adam Hill: 58.23
Dan Carpenter: 41.58
10:43 District 1
Peschong: 54.85
Martin: 45.07
10:48 With 71 of 160 precincts reporting:
District 3
Hill: 57.83
Carpenter: 41.94
District 1
Peschong: 54.77
Martin: 45.14
10:54 Turning to the presidency — though the network has yet to officially call the presidential race, NBC is saying this is a stunning turn of events, and Hillary Clinton needs to figure out what to do about conceding.
"We, the media, were as much on the ballot," adds Lester Holt, the moderator of the first debate who faced allegations of siding with Clinton.
11:10 It appears Clinton will not concede tonight, nor will she address the public. "We can still wait a little longer, can't we?" John Podesta, Clinton's campaign chair, said. "Everybody should head home. You should get some sleep."
Meanwhile, Trump supporters are chanting, "Call it. Call it."
11:14 Back to SLO County, will sales tax go up? With 91 of 160 precincts reporting, Measure J voting is as follows:
Yes: 65.33
No: 34.67
Though it is close to the two thirds threshold, Measure J appears to be going down.
11:23 Cunningham is still up about 10 percent over Ortiz-Legg. It looks as though Ortiz-Legg and the state Democratic Party failed to convince voters that attorney Cunningham's criminal defense work was anything more than defense work. On the flip side, Ortiz-Legg's two criminal convictions could have put off voters.
11:30 In the all-important Los Osos Community Services District Board of Directors race, SLO County activist and devoted public record requester, Julie Tacker, will not be winning a seat. Tacker has 14.63 percent of the vote. Marshall Ochylski, an incumbent, and Vicki Milledge will capture the two seats up for grabs.
11:33 Carbajal has nearly a 10 percent lead over Fareed. It appears the Democrats will keep the seat Lois Capps has occupied.
11:45 Clinton has reportedly called Trump to concede. Trump has been declared president-elect of the United States.
11:55 Trump is delivering a victory speech. He is pledging to be the president of all Americans.
12:15 100 percent of SLO County precincts are reporting.
District 3
Hill: 57.43
Carpenter: 42.31
District 1
Peschong: 55.51
Martin: 44.40
Measure J
Yes: 65.00
No: 35.00
Once again, Measure J needed a two thirds vote to pass.
12:35 Wrapping things up, Adam Hill is not fired. Trump is hired as president. Caren Ray returns to the Arroyo Grande council. Cunningham and Carbajal are the winners at the state and congressional levels.
Image of the night: