Election tensions surface in SLO County
November 9, 2016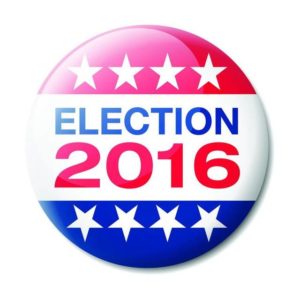 On an Election Day in which tensions boiled over in some parts of the United States, a few minor disruptions to voting took place in San Luis Obispo County. In Southern California, a deadly gun battle broke out near a couple polling places, albeit the shootout has no suspected links to the election.
Officers responded to three incidents at polling places in SLO County — one in Paso Robles and two in San Luis Obispo. In Paso Robles, a man showed up to vote wearing a red Hells Angel shirt. He then reported to Paso Robles police that he felt intimidated while at the polling place because his shirt was red, Lt. Ty Lewis said. [Tribune]
Police investigated the incident and determined the poll workers also felt intimidated. Lewis said it did not appear the polling place workers did anything to intimidate the man in the Hells Angels shirt. The man was able to complete his ballot.
Around 1:15 p.m., San Luis Obispo police responded to a call about a man disrupting a polling place by yelling at voters who were siting on a lawn. Officers asked the man to leave the polling station, which was located at the SLO Veterans Memorial Building.
At the county clerk-recorder's office in downtown SLO, a man was being loud and disrupting voters. A sherif's deputy accompanied the man outside where he filled out a provisional ballot.
Peace was not preserved in the Southern California city of Azusa, which is about 25 miles east of Los Angeles. A military veteran who was allegedly on a cocaine binge engaged in a shootout with police that left two men dead and two women in critical condition. [NBC LA]
One of the men killed was the gunman. The other was a neighbor of the gunman, who died en route to the hospital.
The neighbor who died, as well as the two wounded women, were shot in crossfire between police and the gunman. One of the women was shot in the face and the other in the body.
As a result of the shootout, authorities locked down two schools and two polling places. Elections officials advised voters to go to other polling places in the area in order to cast their ballots.
In an unrelated matter, the California Fair Political Practices Commission decided on Election Day to investigate allegations that Grover Beach Mayor John Shoals failed for years to report personal financial interests. Activist Julie Tacker filed a complaint with the FPPC last month alleging Shoals routinely filed economic interest statements late, or not at all, and concealed property he owns in Santa Maria, as well as LLCs he controls.
Grover Beach voters reelected Shoals on Tuesday. A few months prior, the FPPC fined the South County mayor more than $1,000 for violating campaign finance reporting rules during his 2014 mayoral run.