Vandal paints anti-Trump expletive on SLO veterans tank
November 23, 2016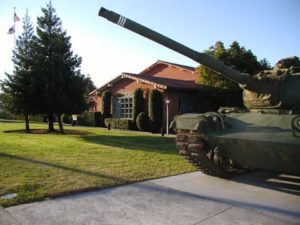 The tank situated outside the Veterans Memorial Museum in San Luis Obispo will apparently spend Thanksgiving covered in white paint and graffiti showcasing an expletive directed at President-elect Donald Trump. [KSBY]
San Luis Obispo police say a person poured white paint on the tank, drew vulgar designs and wrote an anti-Trump expletive. The tank is not expected to be cleaned until the time the museum opens after the Thanksgiving break.
Police say the vandalism occurred either Monday night or early Tuesday morning. Investigators have not identified a suspected vandal.
Museum director Harry Hoover said he has no idea who would do such a thing to disrespect veterans. The vandalism has reportedly upset and disgusted local veterans.
The tank was vandalized at least once previously. About eight years ago, anti-George W. Bush statements were written on the tank.