Ruckus over Trump at Harmon's victory party
December 11, 2016
By KAREN VELIE
During San Luis Obispo Mayor Heidi Harmon's victory party on Friday, political unrest over Trump led to an argument that included drinks being tossed across a large round banquet table.
While Harmon invited all members of the public to attend her victory party last Friday, several attendees made rude comments to a man who attended the event wearing a Trump T-shirt with a name tag that said "white privilege." The man, who arrived early, sat at a table at the back of the Masonic Hall on Marsh Street.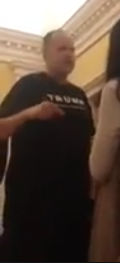 While the Trump supporter conversed with a man sitting next to him, a woman at the table yelled at him for wearing a Trump T-shirt, and then tossed her drink across the table hitting the man in the face, multiple attendees confirmed.
With liquid dripping down his shirt, the man stood up, told the woman not to touch him and tossed the contents of his glass at her. After she left the table, a group of men approached the Trump supporter asking him what had occurred, according to a tape of the incident.
While some attendees faulted the woman for attacking the Trump supporter, others found the man at fault for attending the event while wearing a Trump T-shirt.
"For all we know he has a gun in his leg," said one attendee, according to an audio tape of the incident. "That poor lady."