SLO council considering water bottle ban
December 29, 2016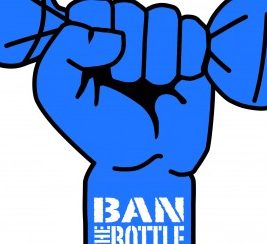 The San Luis Obispo City Council is set to discuss the possibility of adopting a San Francisco-style ban on single-use plastic water bottles.
In February, the council voted 4-1 to direct city staff to craft an ordinance banning the sale of single-use water bottles at city events. City staffers have yet to draft the ordinance. Rather, they are asking the council to conduct a study session on Tuesday in which it will review possible water bottle ordinances.
During the study session, council members will listen to a report about a 2014 ban enacted by San Francisco, as well as some similar regulations that other cities have adopted. The San Francisco ban prohibits the sale and distribution of single-use plastic bottles on city property.
In addition to being limited to city property, the San Francisco ban only applies to plastic water bottles that are 21 ounces or less. Additionally, the ordinance exempts athletic competitions and events with fewer than 100 attendees.
Other cities that have similar bans include Belmont, Calif.;  Seattle and Toronto. Most of the bans only affect the use and sale of water bottles on city property. They also encourage cities to make more drinking water available in public places by adding fountains and water bottle filling stations.
Chicago has  implementing a 5 cent tax on the retail sale of plastic and glass water bottles, according to a SLO staff report.
City staffers say CalRecycle estimates that more than 13 million bottles were purchased in San Luis Obispo during the 2015-2016 fiscal year and only 41 percent were recycled. Statewide, 3 billion plastic bottles annually end up as litter or in landfills, according to CalRecycle.
The SLO City Council will convene for its regular meeting at 6 p.m. Tuesday. The discussion on possible water bottle ordinances is near the end of the agenda.