SLO High arson suspects were angry with teacher
December 9, 2016
The three San Luis Obispo High School arson suspects confessed to setting the school's computer lab on fire because they were angry with a former teacher, police say. [KSBY]
Jacob Ruth, 19, is a recent graduate of SLO High, while Michael Benadiba and Cameron Bratcher transferred out of the school last year. All three of the suspects are facing felony arson, burglary and vandalism charges.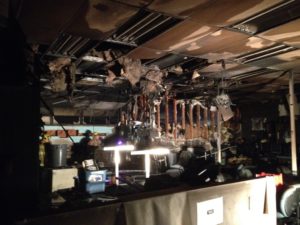 District officials say the fire caused about $750,000 in damage. In addition to all the computers being a loss, the fire destroyed robotics equipment that students had been building for several months. The computer lab is the home of the SLO Robotics and VEX Team, and their annual competition is scheduled for Saturday, according to Softec, a local nonprofit software and technology association.
The robotics students will no longer be able to compete in the event. A statewide competition is due to take place in January.
Operations Director Anthony Palazzo said the building can be fixed and the computers can be replaced, but the student' experience cannot be replaced. Palazzo said the building likely will not be fixed until the next school year.
The blaze also caused some fire and smoke damage to two neighboring classrooms, which are used for Spanish and special education classes. The students in those classes have been relocated to other classrooms.
Shortly after midnight on Thursday, firefighters responded to a fire alarm at building 800, which houses the computer lab, and quickly extinguished the blaze. While firefighters were suppressing the fire, dispatchers received a call from a resident of Alta Drive who reported seeing three men park their car and jump over a fence. The fence led to the scene of the fire, according to the San Luis Obispo Police Department.
Officers responded and arrested Ruth, Benadiba and Bratcher. Police booked each of the suspects into the San Luis Obispo County Jail with their bail set at $25,000. None of the three remain in custody, according to the county sheriff's office website.
However, investigators are still probing the three men.
Police say there was burglary in the same classroom the night before the arson. Investigators are trying to determine whether the the arson suspects committed that burglary, as well.
Likewise, there have been recent fire alarm pulls at SLO High School and Laguna Middle School. Investigators have yet to determine whether those incidents have any connection to the case.
Softec is currently raising money to hep the district replace computers, robotics equipment and and other items that were destroyed in the fire.
"Room 307 has been a safe environment during lunch for kids to go advance their technology skills and create lifelong friendships," Softec vice president and former SLOHS parent Stewart Morse said. "Many engineers got their start from this classroom. We are driven to help them rebuild quickly, so that these students can get back to developing computer skills and advancing their robotics program. We realize this is an agonizing loss to Mrs. Fetcho, the students and SLOHS."