Cal Poly dorm evacuated because of shifting soil
February 19, 2017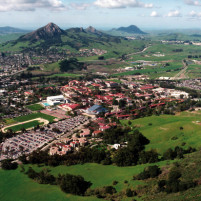 Cal Poly evacuated Fremont Hall North Wing on Saturday because of shifting soil and unstable trees on a nearby hillside.
Officials ordered nearly 300 people in building 109 to evacuate. Campus housing staff is providing temporary rooms and help with moving.
Last week, staff constructed a barrier wall to protect the building. However, shifting soil has already reached the top of the barrier wall.
Crew are currently removing and trimming trees that threaten the dorms.
With more rain predicted through Wednesday, there are no estimates on when students can return to their dorm rooms.