Couple evacuated from home that could fall into Atascadero Creek
February 9, 2017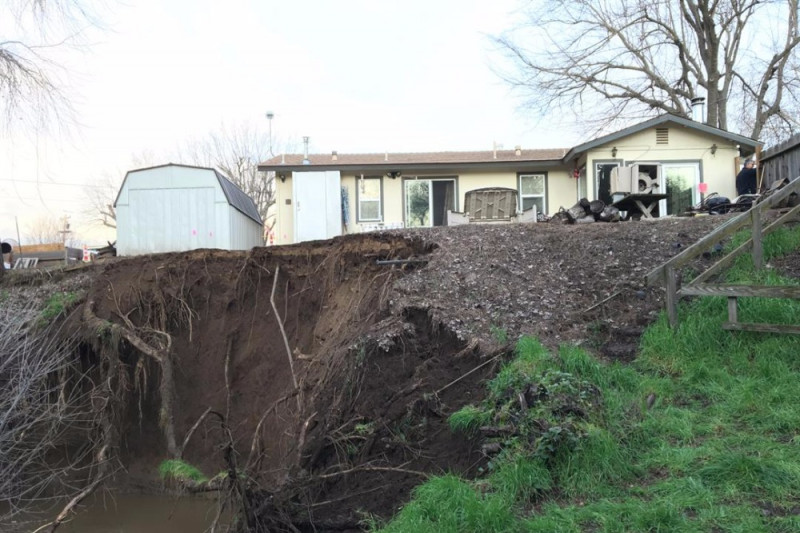 An elderly couple's home is teetering on the edge of falling into the Atascadero Creek.
John Shaydak, 71, and Erna Shaydak, 86, have lived in the Ensenada Avenue house for 46 years, according to a GoFundMe page created by their grandson Charles White. On Tuesday, city employees, as well as Red Cross workers and community volunteers, cleaned out the house and moved the Shaydaks belongings into an Atascadero Mutual Water Company storage facility.
For years, the Atascadero Creek bank has eroded along Ensanada Avenue near the Via Avenue Bridge, city officials said. The recent storms and rapid creek flow have caused the creek bank to erode further, and the Shaydaks' house, as well as a shed on the property, are now situated very close to the edge. The shed appears to be within 10 feet of the creek, while the house is slightly further back.
"If this coming storm is as bad or even worse than the last one, I fully predict that the house will end up in the stream bed by tomorrow or the day after," White stated on the GoFundMe page.
City officials have red tagged the house and evacuated the Shaydaks. The couple is currently staying in a nearby hotel room that the Red Cross is providing.
John Shaydak told KCOY that he has witnessed years of local government efforts to divert the creek. Shaydak, however, also said it is a violation of federal Environmental Protection Agency standards to divert the flow of a creek.
CalCoastNews has come across a case in which the EPA allowed the diversion of water to prevent riverbank erosion and to stop erosion from causing pollution.
Some local residents who have seen the Shaydaks' home say the house was built too close to Atascadero Creek, which runs into the Salinas River, and there is no way to divert the water in the area.
White is now trying to raise $100,000 to assist his emotionally-shaken grandparents.
"They raised my mother, and for a time me and my sister in that house. Recently my grandfather decided to renovate the house to make them more comfortable in their later years. At this time they are still paying off those renovations. Now after all these years the creek has finally eaten away the bank enough enough to put their house, their entire world, in danger of collapse," the GoFundMePage states.
In a span of 14 hours, donors have pledged $1,570.