Hiker airlifted from Montana de Oro after all-night affair
February 6, 2017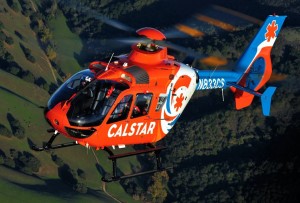 A hiker who ran out of gas spent Saturday night sleeping on a tarp with rescue workers near a Montana de Oro trail. The next morning, a helicopter airlifted him to safety. [KSBY]
San Luis Obispo resident Cody Lydy, 27, began hiking in Montana de Oro around 8 a.m. Saturday. He hiked up to Valencia Peak, then decided to venture to Alan Peak, which is multiple miles away.
On the way to Alan Peak, Lydy became sluggish and started running out of water. He saw a dirt road and decided to take a detour.
As Lydy walked down the road, his legs started cramping, and he felt he could not move any more. Lydy walked about three quarters of a mile off the trail and ended up getting stuck, he said.
At that point, his cell phone had 10 percent battery and one bar of service. Lydy called his mother, father and girlfriend and told them he was stuck, "messed up pretty" bad and was not going to make it back.
Lydy had also come across poison oak and stinging nettle and got scratched up in the Islay Creek Watershed.
His phone died, and he sat down scared. Suddenly he heard a helicopter in the distance, which was circling around trying to find him.
When the helicopter located Lydy, clouds had moved in, and it was too dangerous to do a hoist operation, Supervising State Park Ranger Dale Kinney said.
Search and rescue workers then hiked at least four hours to reach Lydy. They did not find him until well into the night.
The rescue team brought food, water and the tarps on which they slept. When the clouds cleared Sunday morning, the helicopter lifted Lydy to safety and then landed on the beach.
After landing, Lydy said he was super grateful and that search and rescue workers saved his life. Lydy said he did not think he was going to make it.