Hundreds show up in SLO for "Day Without a Woman"
March 9, 2017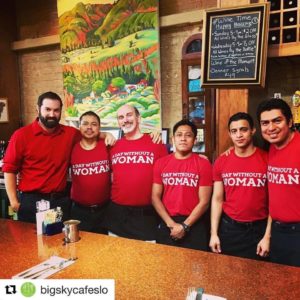 At least a couple hundred demonstrators gathered in downtown San Luis Obispo Wednesday to participate in "A Day Without a Woman."
Participants marched from Meadow Park to Mission Plaza, where they held a rally and a moment of silence. The event coincided with the United Nations-sponsored International Women's Day, and demonstrations took place worldwide on Wednesday.
The "Day Without A Woman" also came less than one month following the "Day Without Immigrants," a nationwide protest against President Donald Trump. As was the case with the "Day Without Immigrants," many people skipped work on Wednesday.
Women were also encouraged to avoid shopping, with the possible exception of in female-owned businesses. At Big Sky Cafe in downtown SLO, male workers wore red shirts saying "a day without a woman." Big Sky Cafe closed its doors last month for the day without immigrants.
Leaders of the day without women event said demonstrators were recognizing the enormous value that women add to the socio-economic system. Likewise, demonstrators were bringing awareness to female workers' vulnerability to lower wages, discrimination, sexual harassment and job insecurity.
San Luis Obispo Mayor Heidi Harmon, a feminist and longtime community organizer, released a statement in support of the day without women event.
"Today we take a moment to honor the women who surround our lives and celebrate their value in our society. We celebrate women as laborers, entrepreneurs, leaders and as mothers. This movement transcends politics and it goes way beyond this moment and this day," Harmon wrote. "To be truly inclusive, the feminist movement needs to fight for both economic and social equality for women. It is not enough just to resist misogyny, we must also resist the deeper social problems that have normalized it. Looking to our daughters and their daughters as our next generations of leaders, we must all — men and women — stand against inequality and for the just future that all our people deserve."