Santa Maria man assaults officer on Cal Poly campus
March 11, 2017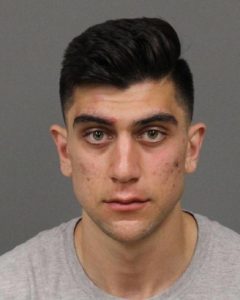 After being stopped in a stolen vehicle, a Santa Maria man allegedly assaulted a Cal Poly police officer, then tried to run away.
At about 12:47 a.m. Friday, an officer conducted a traffic stop on a vehicle on the Cal Poly campus. The driver, 19-year-old Anthony Andoyan, then assaulted the officer and fled on foot, according to the university police department.
Police chased the suspect and caught him. Officers then determined the man was driving a stolen vehicle.
Officers booked Andoyan in San Luis Obispo County Jail on charges of driving a stolen vehicle, assaulting an officer, possession of stolen property and resisting arrest. Andoyan remains in custody with his bail set at $20,000.