The Tribune's misguided misrepresentation campaign
June 23, 2017
CCN EDITORIAL
A few weeks ago, The Tribune wrote that a CalCoastNews reporter appeared to be missing, in the follow-up to the $1.1 million libel judgment against CalCoastNews and two staff members, Karen Velie and Dan Blackburn. The Tribune claimed process servers had attempted repeatedly to serve Velie at her relatives' home, her home and her work address.
What The Tribune failed to note was that those three places were the same physical location.
For several years, Velie and one of her daughters had lived together in a home where Velie had an office. During the few weeks of service attempts, Velie had been out of the area, but that The Tribune did not report.
The contention of The Tribune was that Velie was attempting to hide assets from the plaintiff in the libel case.
CalCoastNews reporters and editors have worked for years for little or no financial benefit because we care about the community and real news, not just our own bank accounts.
For more than nine years, Velie had kept the site operating through multiple loans from a handful of people. Those loans, made long before the libel judgment, had a priority interest over the recent judgement.
While CalCoastNews reporters received a judgement, they did not get justice. When the truth is suppressed there is no justice. Because of a lack of funding, the plaintiffs were able to block most of our evidence from the jury. That included videos, emails and witnesses.
This lawsuit was not about the truth, this lawsuit was an attempt to destroy CalCoastNews. It is being promoted by people who want to silence CalCoastNews. These people have harassed reporters, their family members and CCN's advertisers.
Our investigations have led to the arrest of a chamber leader, a developer, a handful of hard money lenders and many others. Our investigations have exposed corruption, fraud and abuse, and as a result there are those who would like to shut us down.
CalCoastNews is not the only news organization in financial trouble. Newspapers and news websites have gone out of business, unable to generate enough revenue to keep their doors open. But, in some cases, as newspapers have become financial disasters, reporters have turned on one another.
Following the judgement, The Tribune attempted to use it to promote its publication and its reporters as investigative. However, The Tribune failed to look into the allegations surrounding the handling of hazardous waste reported by CCN that led to the lawsuit.
Our competitors are not investigative reporters, they are selling a position.
For more than eight years, The Tribune has trailed CalCoastNews investigative reports. Our investigations often span years and include cultivating sources, interviews, extensive research and multiple records requests.
After CalCoastNews conducts in-depth investigations and reports stories, Tribune reporters regularly lodge requests for the same document, call sources named by CalCoastNews and then publish similar articles.
And while reporters generally credit other reporters for investigative journalism, The Tribune has regularly claimed CCN's work as its own original investigative reporting.
For example, more than two years ago, CCN reporters began investigating allegations of abuse at the county jail and the county mental health facility. Our work has brought to light issues that could save lives and stop suffering.
Several times during the investigation, reporters reached out to family members of men who had died at the jail or county mental health facility, asking them to send their relative's body for an outside autopsy.
After Andrew Holland died, CCN reporters contacted a family member and told him that it appeared Holland had not died from respiratory arrest, but most likely from a blood clot after guards strapped him in a restraint chair where he remained immobilized for two days.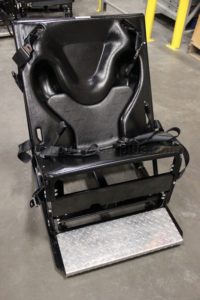 Reporters informed the family that a log and video of the incident would show that jail guards had failed to follow safety rules regarding the chair and at times appeared to mistreat Holland. Near the end of the more than 46 hour video, guards unstrap Holland and tilt his chair forward dumping him on the ground, a source from inside the jail said.
Holland's family then agreed to send his body out of area for an autopsy and asked the county for the logs and videos.
Following the exclusive coverage by CCN, a Tribune reporter called a member of the Holland family and asked if the CCN article was accurate, according to the family member.
The Tribune then reported on the death failing to mention that the information was made public because of an extensive CCN investigation.
In the past, The Tribune has entered journalism contests submitting stories that it claims were its own original investigative reporting. But it has failed to disclose that CalCoastNews broke the stories and published them well before the Tribune even began to look into the issues.
The Central Coast needs all the reporting it can get.
Corruption and abuse of power is a major issue and the public needs to know what elected officials and public employees are doing.
Instead of spending time and resources attacking fellow journalists, The Tribune should think of its mission to serve the people of this community and focus its attention on people doing real harm to the people and communities that we, as journalists, all serve.