SLO man arrested for DUI after hitting parked cars and overturning
July 5, 2017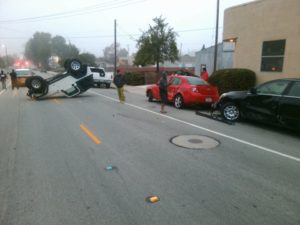 Police arrested a San Luis Obispo man on July 4th after he allegedly drove under the influence and crashed his vehicle into three parked cars.
The collision, which occurred before 5:30 a.m. by Buchon and High streets in SLO, resulted in the suspect's car overturning in the middle of the street. Officers arrived at the scene and spoke with the driver, Peter Anacabe, 25,, who was standing near the overturned vehicle.
Police conducted a DUI investigation and arrested Anacabe for DUI. Officers booked Anacabe in San Luis Obispo County Jail, and his car was towed from the scene. Anacabe is no longer in custody, according to the county sheriff's office website.
San Luis Obispo police say it was fortunate no one suffered injuries in the collision.