Suspects on the run after stabbing in Bubblegum Alley
July 28, 2017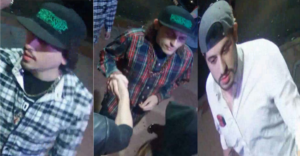 Police are searching for three suspects involved in a stabbing in San Luis Obispo's Bubblegum Alley last week.
Around 12:30 a.m. on July 19, three Hispanic males physically assaulted a male victim at the popular tourist destination with one of the suspects stabbing the victim, according to surveillance footage. Officers arrived at the scene and found the victim with multiple stab wounds to his upper torso and one stab wound to his forearm.
Responders transported the victim to Sierra Vista Regional Medical Center where he received treatment for non-life threatening injuries. Medical personnel released the victim from the hospital the same day he arrived.
Investigators determined the victim was accompanied by another male during the attack. All of the suspects fled, and officers have yet to locate any of them.
Police say all three of the suspects are Hispanic males in their 20s with light complexion. The first suspect is described as being 5 feet 8 inches tall with an average build, black hair down to the mid-neck line and a black mustache. He was wearing a black and white flannel shirt, gold chain and black hat with green writing.
The second suspect is described as 5 feet 8 inches tall with an average build, brown hair down to the top of his shoulders and no facial hair. He was wearing a red and blue flannel shirt and the same black hat as the first suspect.
Police say the third suspect is 6 feet tall with an average build, short black hair, and a goatee style beard. He was wearing an all-white collared dress shirt with a gray baseball hat on backwards.
Investigators request that anyone who has information about the stabbing or knows the identity of the suspects call the police department at (805) 781-7317 or Crime Stoppers at (805) 549-STOP.