Couple with dead body may have had plans to bury it in Big Sur
August 18, 2017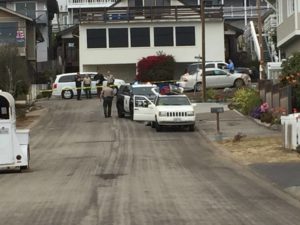 The San Luis Obispo County Sheriff's Office says the Bakersfield couple that was caught transporting a dead body inside their SUV may have had plans to bury the deceased man in the Big Sur area.
On Tuesday, deputies found the body of an 83-year-old man, now identified as Donald Eugene Cunningham, from the Bakersfield area, in the SUV belonging to Darwin Keith Alaskari, 59, and his wife Sherrie Lynn Boggess, 50. The couple's 13-year-old daughter was also inside the SUV, which deputies found parked in the wrong direction on a street in Cayucos.
A preliminary investigation suggests Alaskari and Boggess were transporting Cunningham's body to be buried in the Big Sur area or possibly somewhere out of state, according to the  sheriff's office. It is not clear how long the body was in the back of the SUV or why the suspects were in the Cayucos area.
Deputies have arrested both Alaskari and Boggess on child endangerment and other charges unrelated to the death of Cunningham. Depending on the results of an autopsy that was conducted on Wednesday, sheriff's officials may file additional charges.
Authorities are also conducting a toxicology report, which is expected to take six to eight weeks to complete.
Sheriff's officials have said the preliminary investigation indicates Cunningham was a longtime acquaintance of the Bakersfield couple. Alaskari, Boggess and Cunningham are all described as transients from the Bakersfield area.
Investigators say Alaskari and Boggess have ties to the local area, but authorities have yet to disclose them.
Alaskari and Boggess's daughter is currently in the custody of Child Welfare Services. The teen had been placed in close proximity to narcotics and paraphernalia, in addition to decomposing human remains.
Both Alaskari and Boggess remain in San Luis Obispo County Jail. Alaskari's bail is set at $105,000, while Boggess remains in jail with bail set at $150,000.
An investigation into the case is still ongoing.