Marijuana company purchases California town
August 7, 2017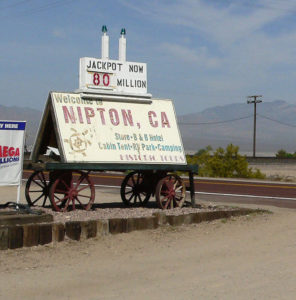 A marijuana technology company has purchased an entire California town with the plan to transform it into a tourist destination for cannabis consumers. [CNN]
On Thursday, Arizona-based American Green bought the Mojave Desert town of Nipton for a reported price tag of $5 million. Nipton, a town of 120 acres, has about 20 residents, a hotel, a general store and a schoolhouse. It is located along Nevada State Route 164 about a one hour drive away from Las Vegas.
American Green released a statement saying it plans to transform the town into the United States' "first energy-independent, cannabis friendly hospitality destination." The company says it will focus on bottling cannabis-infused water in Nipton. Likewise, it will prioritize the production of marijuana edibles and the cultivation of cannabis in the California town.
The  company also plans to build mineral baths, lodging, pot retail outlets and a "first-of-its-kind eco-tourism experience for conscious cannabis consumers." American Green's project of developing Nipton has a $2.5 million budget and an 18-month time frame.
Nipton's roots relate to gold and silver mining. The town was founded in the early 20th Century following a nearby gold discovery.