Photo of mouse in Nipomo Carl's Jr. leads to temporary closure
September 12, 2017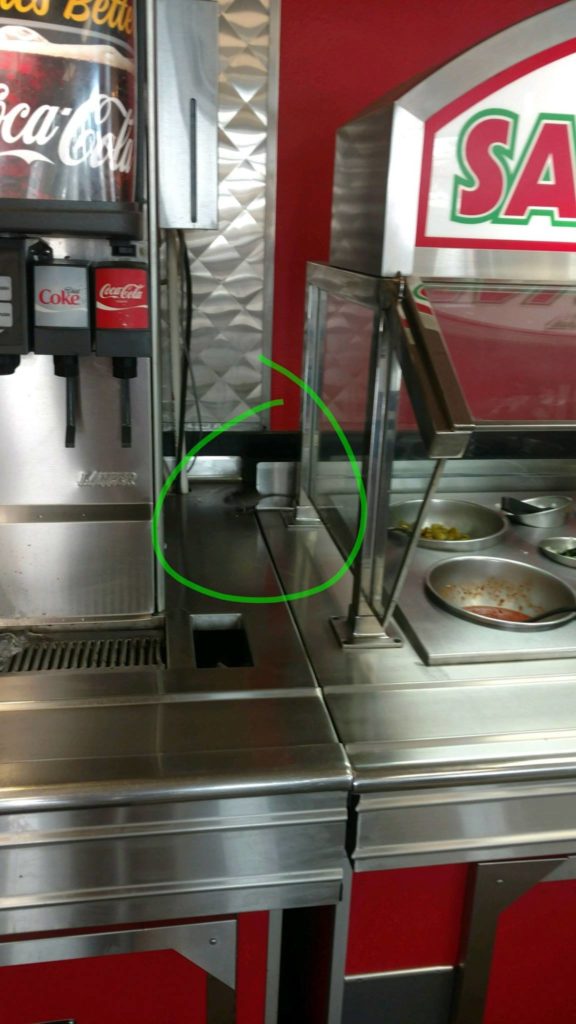 A South County woman photographed a mouse on Sunday as it was running around beside a salsa bar inside a Nipomo Carl's Jr., and a day later, the restaurant was closed and the subject of a public health investigation.
Jennifer Colman posted a photo on Facebook of the mouse in between the salsa bar and a soda machine inside the Calr's Jr. at 510 W. Tefft Street. Colman took the photo in the restaurant's dining room, and then informed Carl's Jr. employees about the mouse, but they ignored her, she said.
"There was an employee on their break right by the bar and while I was pointing and saying mouse they didn't seem to care," Colman wrote in a Facebook post. "The manager just looked and didn't seem to care either. So gross!"
Colman then reported the incident to the San Luis Obispo County Public Health Department and the Carl's Jr. corporation. On Monday, the Nipomo Carl's Jr. was closed for a health inspection.
SLO County Environmental Health services supervisor Leslie Terry told KSBY that inspectors found no sign of a rodent infestation. Terry also said the owner is being very compliant, and she thinks the owner is embarrassed and trying to take care of the problem.
Even though the fast food location passed the inspection, Carl's Jr's corporate office opted to close the restaurant Monday afternoon.
"We are aware of the image posted online. Carl's Jr. takes its commitment to food safety and quality seriously," Carl's Jr. said in a statement. "Although the restaurant passed a health inspection this morning, we decided to proactively close the restaurant today while further corrective action is taken to ensure this doesn't happen again. We apologize to our customers for any concern this has caused."
The Nipomo Carl's Jr. has passed recent inspections, but during an inspection in June, the restaurant received a deduction in its score due to vermin droppings being observed under shelves in a dry storage area.
County health officials say the restaurant can now reopen. It is unclear when it will.