22 clubbed cats found near Santa Margarita
March 17, 2018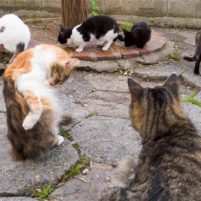 Authorities found 22 dead cats dumped on the side of a remote road east of Santa Margarita in the Los Padres National Forest earlier this month, according to San Luis Obispo County Animal Services. [Cal Coast Times]
Animal Services workers found the dead cats on March 8. The cats died as a result of intentionally inflicted blunt force trauma, according to the agency.
All of the cats appeared to have come from a single location. It appeared that the cats were well cared for prior to their deaths.
Officials have not identified a suspect or suspects in the case. Investigators request that anyone who has information about the dead cats or their owner call animal services at (805) 781-4400 or Crime Stoppers at (805) 549-STOP.