Protesters rally over torture death at the SLO County Jail
March 18, 2018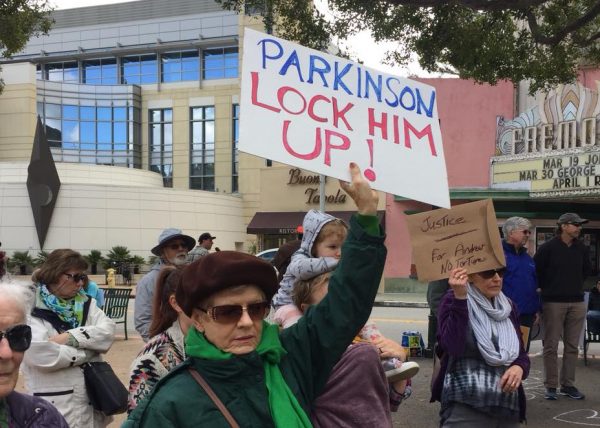 Dozens of protesters gathered Saturday afternoon outside the San Luis Obispo courthouse seeking the resignation of Sheriff Ian Parkinson and District Attorney Dan Dow. The rally follows the release of a video that confirmed earlier CalCoastNews reports regarding the death of Andrew Holland.
For years, the sheriff's department has violated California laws regarding the treatment of mentally ill inmates, according to state reports. After Holland began harming himself, deputies strapped him naked in a restraint chair where Holland remained for 46 hours. Holland died shortly after deputies released him from the chair and dumped him on the cement floor of the drunk tank, from a blood clot that traveled from his leg to his lung.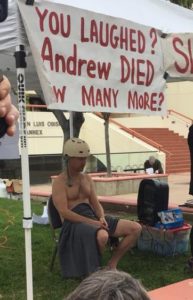 Following Holland's death, in an apparent coverup, the the sheriff's department disbursed false information including that Holland likely died of respiratory arrest, that Holland was continually under a physicians care, that his department followed state laws regarding the treatment of the mentally ill and that medical staff had ordered that Holland remain in the chair.
As part of the ongoing protest, the SLO Progressives plan to have volunteers sit in a chair with a helmet for 46 hours to symbolize the last days of Holland's life. The protesters are asking attendees to sign a petition demanding Parkinson step down.
San Luis Obispo Mayor Heidi Harmon, who failed for months to comment on civil rights violations at the jail and the death of Holland, which was first reported by CCN more than a year ago, appeared to chastise other elected officials for not attending the rally sponsored by a political group she co-founded, the SLO County Progressives. Harmon also voiced fears for her safety because of her attendance at the rally.
"I also want to thank my fellow council member, Andy Pease, for being the only other elected official out of hundreds of local officials to be here today," Harmon said. "It takes courage. So I appreciate that. So if they come after us, I will at least have a buddy."
Last summer, Harmon sought police protection after a gay pride flag that was hanging on the roof of her porch was stolen, placed in the gutter and torched.