SLO County election night coverage
June 7, 2022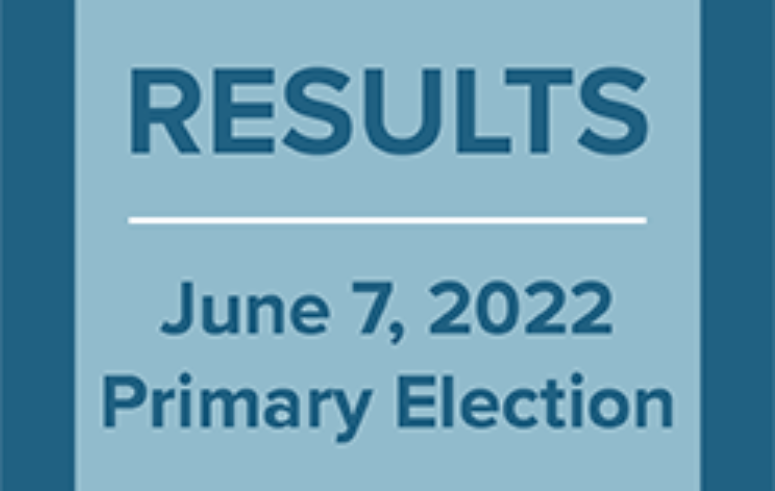 By CCN STAFF
An unusually heated election cycle, both nationally and in San Luis Obispo County, is drawing to a close. Likewise, the slugfests over three supervisor seats and the clerk recorders top spot are wrapping up. Who will have a reason to celebrate tonight and who will be drinking away their sorrows?
CalCoastNews will have live updates on the results of local races, starting shortly after the polls close at 8 p.m.
The initial results are looking really good for local Democrats.
District 4 Supervisor

Jimmy Paulding – 59.72%
Lynn Compton – 40.28%
District 3 Supervisor
Dawn Ortiz-Legg – 66.54%
Stacy Korsgaden – 30.23%
District 2 Supervisor
Bruce Gibson – 54.92%
Other three candidates – not doing very well
Clerk-Recorder
Elaina Cano – 68.47%
James Baugh – 16.66%
Stew Jenkins – 14.87%
8:48 p.m. To start off the night, it looks dismal for local Republicans. Can one expect votes to swing in the other direction or will the Democrats demolish tonight?
Superior Court Judge
Mike Frye – 67.63%
Paul Phillips – 32.37%
Oceano fire tax (2/3 needed to pass)
Yes – 60.33%
No – 39.67%
A more precise look at the initial tally for District 2
Bruce Gibson – 54.92%
Geoff Auslen – 16.28%
Bruce Jones – 16.28%
John Whitworth – 12.52%
9:15 p.m. As Republicans wait and hope for late-arriving ballots to produce swings in favor of their candidates, some races look closer than others. District 2, for instance, has three conservatives splitting votes. Gibson is currently less than 5% above a majority, which he will need to win the race outright and avoid going to a November runoff in which conservatives would rally behind a single challenger.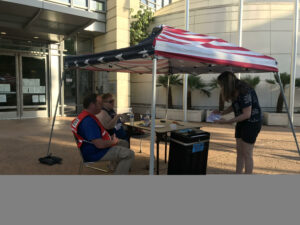 9:25 p.m. Prior to polls closing at 8 p.m., CalCoastNews observed a large number of ballots arriving at the county government center. Two elections workers said, since they arrived, four boxes of ballots had already been filled up. The box pictured above would make the fifth.
9:39 p.m. Morro Bay Councilwoman Dawn Addis has a sizable lead in the race for the new 30th District Assembly seat. Addis has 44.7% of the vote, far more than each of the other three Democrats in the race. Vicki Nohrden, the lone Republican running in this very liberal district, has 31.9% of the vote. That is with just 4.8% of precincts reporting.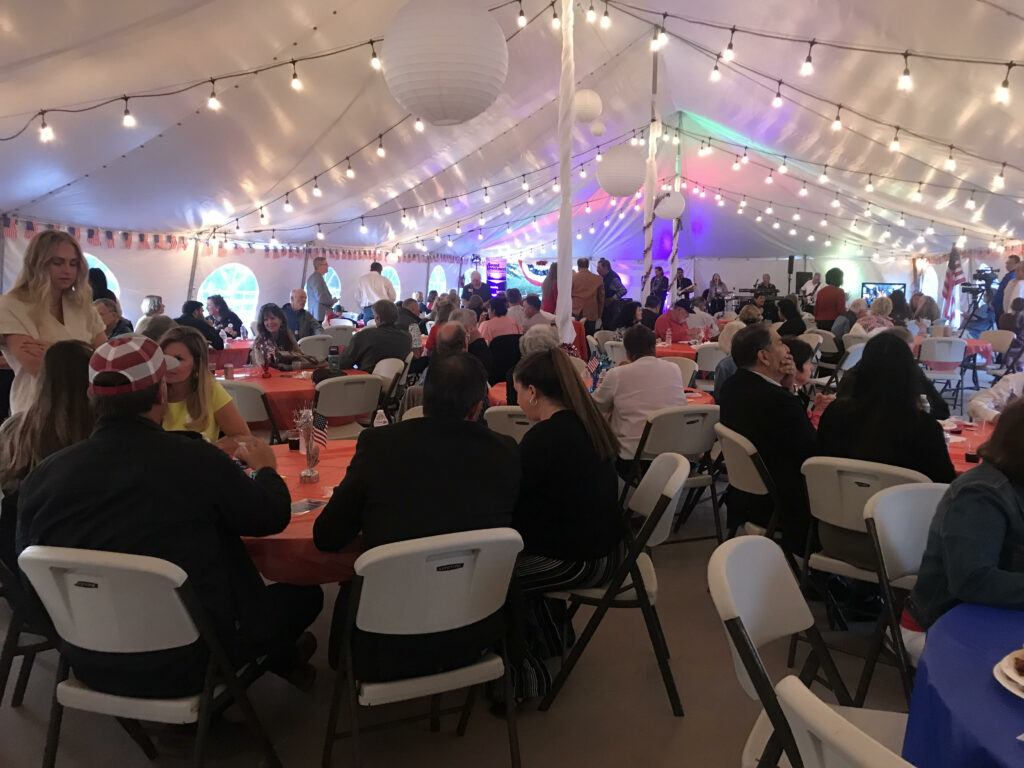 Supporters of South County conservatives Lynn Compton and Stacy Korsgaden are gathered at what at least began as a very loud watch party. Will the excitement die down?
10:12 p.m. SLO County elections officials have released an updated results report, but the votes tallied only increased by 301. Make sense of that… CCN's working on it.
Elections officials increased the total of precincts that have reported from 0 to 15 (out of 117). Yet, the vote tally barely change. Many election watchers are eagerly waiting for clarification.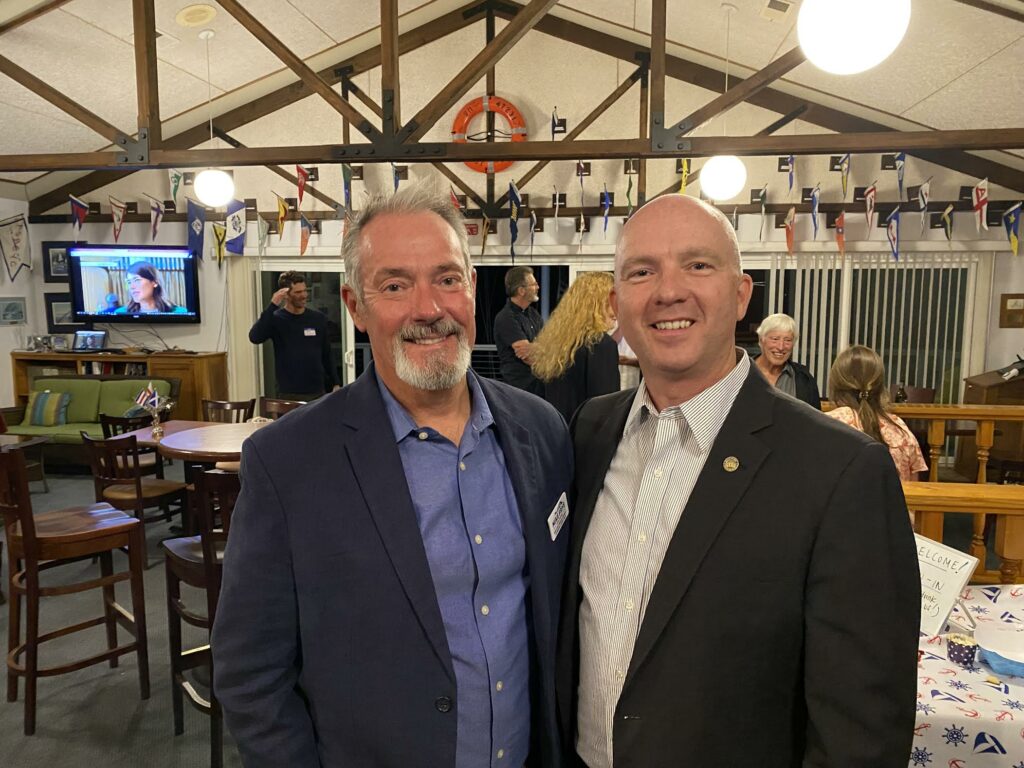 10:30 p.m. Deputy DA Mike Frye (left) is in solid positioning to become Judge Mike Frye. Meanwhile, his boss, Dan Dow (right), will remain SLO County's district attorney. Dow is running for reelection unopposed.
10:52 p.m. In the Assembly race, with 12% of precincts partially reporting, Dawn Addis maintains a commanding lead. The Morro Bay councilwoman has received 44.5% of the vote and looks headed for a runoff with Republican Vicki Nohrden.
11:14 p.m. Hopefully, the county-clerk recorder's office provides another update tonight. It is unclear if that will happen.
CORRECTION: There were ballots counted Tuesday night after the initial round of results, though only 301, making little impact on the vote tallies in each of the races.
12:10 a.m. We have another update, 1,261 more ballots have been counted, yet the number of precincts reported has only risen from 15 to 70 of 117.
In District 2, Bruce Gibson now has 53.63% of the vote. Bruce Jones and Geoff Auslen are separated by just one vote, with 16.65% and 16.63% respectively. John Whitworth has 13.09%.
District 4
Jimmy Paulding – 59.11%
Lynn Compton – 40.89%
District 3
Dawn Ortiz-Legg – 65.46%
Stacy Korsgaden – 31.28%
Arnold Ruiz – 3.26%
Clerk-Recorder
Elaina Cano – 67.42%
James Baugh – 17.51%
Stew Jenkins – 15.07%