Atascadero teacher accused of touching students, making threats
January 31, 2023
By KAREN VELIE
An Atascadero Middle School teacher is in jail for allegedly threatening and terrorizing others after he was accused of inappropriate contact with a student.
Health and physical education teacher James Klink posted dozens of bizarre rants on Facebook this year. Using bad language and misspelled words, the 56-year-old teacher disparages students, parents and school staff while blaming cartels and Freemasons for his ongoing legal problems.
Under one of Klink's posts, a 14-year-old Atascadero Middle School student accuses her teacher of trying to cause problems after he was observed touching another student. CalCoastNews is not providing the student's name because of her age.
The 14-year-old said Klink would not follow the curriculum posted daily on a white board, instead having the students stretch and crawl on the ground while he watched from behind.
Hired for the 2022/2023 school year, Aug. 12 was Klink's first day with students, said Tom Butler, Atascadero Unified School District superintendent.
Shortly afterwards, students began reporting Klink's alleged inappropriate comments and behaviors. District officials moved quickly, informing law enforcement of the allegations and removing Klink from the school. His last day on school grounds was Sept. 2.
"The safety of our students is our number one priority," Butler said. "We took the correct steps and notified the Commission on Teacher Credentialing to make sure this does not happen again."
School officials are currently working through the termination process, Butler said.
Klink calls the allegations a "baseless frame-up," but this is not the first time a child has accused Klink of inappropriate behavior.
In 2018, the U.S. Embassy in Kyrgyzstan, a land-locked country in Asia, sent a letter to then U.S Senator Kamala Harris regarding allegations of child abuse Klink's daughter made against her father in 2017. After reviewing the evidence, Kyrgyz authorities temporarily removed the children from Klink's home and placed them in an orphanage.
"A court in Bishkek is now considering a request from the government of the Republic of Indonesia, their place of habitual residency, to the custody of their maternal grandmother," the Jan. 10, 2018 letter to Harris says. "The children are dual U.S.-Indonesian citizens, and their mother is deceased."
After not posting on Facebook for more than two years, in late Dec. 2022 Klink began posting dozens of bizarre rants.
Klink's Facebook posts
On Jan. 4 Klink posted, "Now you know why they did what they did at Atascadero Middle School. The web is real! Accused me of misconduct."
"My principal is a high level Freemason from Dutch east indies mafia. I need to know where and with who he stayed in Princeville, Kauai for the first two weeks of August??"
On Jan. 5, Klink posted with a photo of a map of Atascadero City Hall, "Near where they tried to crucify me at three grade eight assemblies. Then they brought inappropriate contact charges the next day."
"They recruited me to fuck me. Cal Poly is right there."
"Stacked deck. Same way they fuck you in business, and with this fuckin lockdown power trip! Just follow the constitution. They might have set it up. We can win it back!"
"I had a mental breakdown after the second lockdown. Guess its easy to see why after Sandy Hook etc. Three hours in a sauna with no potable water. Truly a fishbowl turkey shoot. Janitor locked us in! Freemason panic games. Instill chaos. Fuck u Freemasons!!!!"
"You should see how shitty their facilities are. The fucksticks at the top take all the money. Gopher riddled fields. Cheesegrader Blacktop. Ridiculous, shameful figure eight track?? bwahaha."
"Fuckers made me apologize to a student who was a reflection of her Karen mother. She was irate at me for not letting her daughter lead class while wearing cowboy boots. Even though she had already signed a contract saying the kid will come dressed. Jokers. Freemasons. Love to change rules, fuckers. Then the Karen VP says think of the students as your customers. Brand new Freemason admin special for me at AMS. Forced to apologize under duress. Not even credentialed at the crucifixion.
"If your not in their fucking club your fucked. FOR NOW."
On Jan. 7 Klink posted, "Kill then tonight."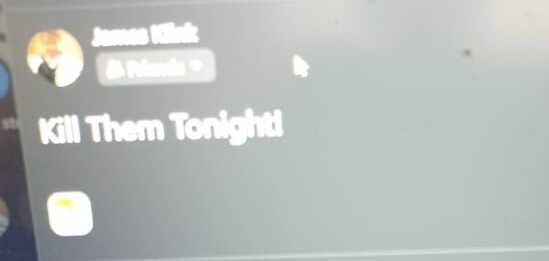 Facebook removed the post, and 10 days later Atascadero police officers arrested Klink and booked him in the San Luis Obispo County Jail on five felony counts of making threats with intent to terrorize. He remains in jail on a no-bail hold.