Evacuations, road closures and flooding, storm drenches SLO County
January 10, 2023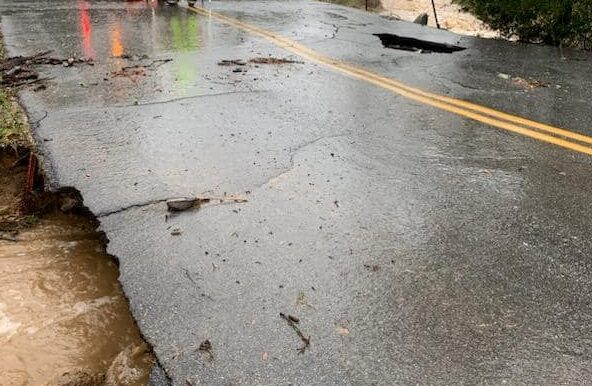 By KAREN VELIE
A strong storm, fueled by an atmospheric river, ravaged San Luis Obispo County on Monday. Heavy rains led to evacuations, road closures, flooding and power outages.
While the storm has moved on, there are still multiple roads closed, homes without power, damaged properties and more rain on the way. Another storm is forecast to move through SLO County from about 3 a.m. through noon on Tuesday.
Current road closures
Highway 101 northbound at 13th Street in Paso Robles
Highway 101 southbound at 17th Street in Paso Robles
State Route 41 from Atascadero to Morro Bay
Main Street onramp to Highway 101 in Templeton
Northbound Highway 1 from Morro Bay Boulevard to Yerba Buena
State Route 229 closed from Highway 58 to Creston
San Marcos Road in Atascadero
Wellsona Road in Paso Robles
Penman Springs Road in Paso Robles
Peachy Canyon Road west of Paso Robles
Adelaida Road from Chimney Rock Road to Vineyard Drive in Templeton
Over 9,000 SLO County residents remain without power. At 6 a.m. on Monday, 1,257 PG&E customers from Avila Beach to Los Osos Valley Road lost power, which has not yet been restored. Also, 3,473 customers are without power in the Morro Bay area and over 1,400 Atascadero residents are without power.
There are also power outages in Paso Robles, the Lake Nacimiento area, Cambria, Templeton, Creston and Arroyo Grande.
Rain totals on Monday

Arroyo Grande – 3.81 inches
Atascadero – 5.00 inches
Lopez Dam – 2.49 inches
Los Osos – 4.16 inches
Nipomo – 5.08 inches
Oceano – 3.22 inches
Rocky Butte – 7.84 inches
San Luis Obispo – 5.83 inches
San Simeon – 2.78 inches
Santa Margarita – 4.35 inches
Shandon – 2.57 inches
Templeton – 5.37 inches