Grover Beach roof partially collapses, displacing residents
February 25, 2023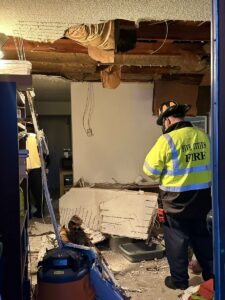 By JOSH FRIEDMAN
Part of the roof of a Grover Beach home collapsed Friday evening, displacing residents. 
At 5:22 p.m., a 911 caller reported an emergency at a home in the 100 block of Janet Place. Firefighter arrived to find the collapsed roof.
Five Cities Fire Chief Steve Lieberman said the collapse may have been due to water damage, but a building inspector would make the final determination. [Tribune]
The incident displaced two residents who were living in the home. Though medics assessed one of the residents, both emerged from the incident uninjured.