San Luis Obispo debates allowing bicyclists to ride on sidewalks
February 27, 2023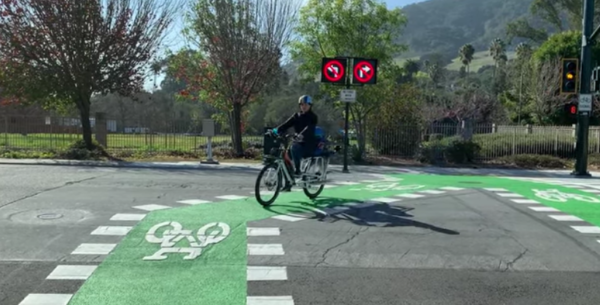 By KAREN VELIE
After installing bike lanes through much of the city, San Luis Obispo is debating whether or not to allow bicyclists to also ride on sidewalks.
The city's Active Transportation Committee last month debated the pros and cons of allowing bikes on sidewalks before voting 5-1 to bring the topic back, with Jonathan Roberts dissenting. On Tuesday, the committee will again discuss recommending changes to an ordinance that bans bicycle riding on sidewalks.
Currently, officers ticket bicyclist caught riding on the sidewalk, a consequence of the ordinance committee members worry could dissuade people from riding bikes.
The city currently has a goal of increasing the share of citywide commute trips made by bicycles to 20% by 2030. City staff estimates that currently 8.3% of city traffic is by bike.
Proponents of allowing bike riding on sidewalks voiced concerns about bike safety on several arterial roads, including Foothill Boulevard. They also argued that children are safer riding their bikes on the sidewalk.
Several committee members voiced concerns that motorists backing out of their driveways will not be looking for bike traffic on the sidewalk. Another member worried about bicyclists crashing into and killing pedestrians.
The committee members were looking at three options:
Continue ban on riding bikes on sidewalks
Allow bike riding on some sidewalks, with a ban in business districts
Allow only children to ride their bikes on sidewalks
The committee provides oversight and policy direction on matters regarding pedestrians and bicyclists. If the committee votes in favor of changing the ordinance, their proposal will require approval by the SLO City Council.