San Simeon CSD caught encroaching on a neighbor, again
February 1, 2023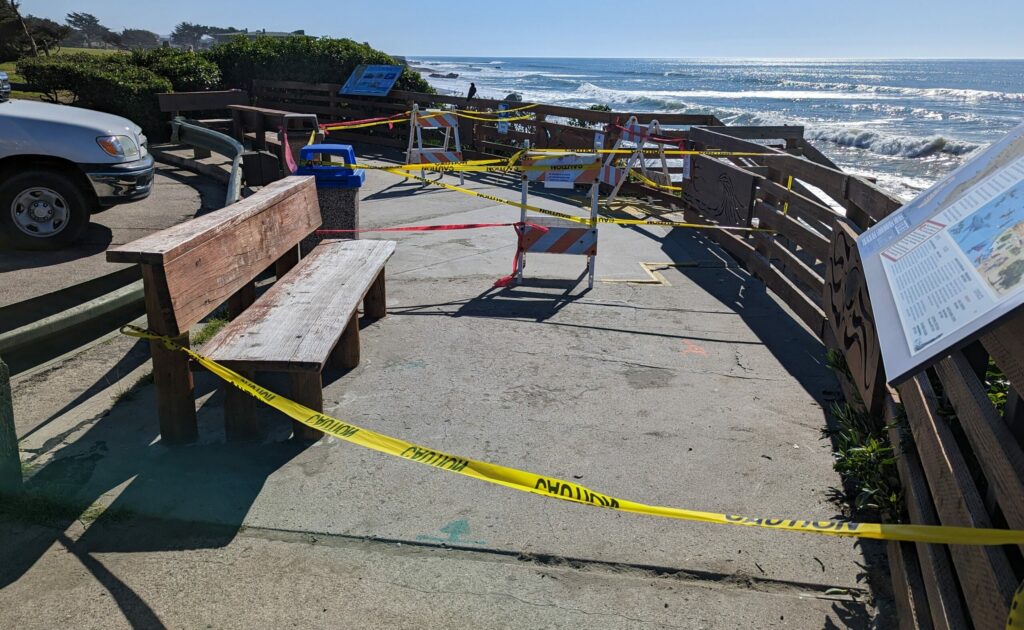 By KAREN VELIE
San Simeon Community Services District officials are in hot water again, this time for constructing a staircase and a viewing area on property they do not own.
Decades ago, the San Simeon district built a staircase to the beach and a viewing area along with benches on the bluffs at the end of Pico Avenue, on land they claimed as their own. However, the land is owned by a trust overseen by a woman who lives out of the area, Marie Louise Paquet.
While aware of the encroachment, district staff applied for a $43,225 federal grant in 2017 to repair the staircase, falsely claiming the San Simeon district owned the property. The district completed the repairs in March 2017.
In a Jan. 9 cease and desist letter, Paquet ordered the district to restrict public access to the viewing area and staircase located on her property.
"This blockage and restrictions should remain in full force until such a time that the issues with the district are resolved in a mutually acceptable manner," according to Paquet's letter. "Should the district fail to do so, the trust will have no other alternative but to seek injunctive relief and take all necessary measures to hold the district liable for any and all claims of any nature whatsoever arising out of this encroachment."
District staff then roped the area off using caution tape.
This is the third time in less than five years that a neighbor has discovered the San Simeon district encroached on their property.
Working to have drinkable water during dry spells, in 2015 the district constructed a water purification facility. In a rush to build the plant, district officials ignored reports they were building the facility on Hearst Conservation land.
After years of negotiations, the district recently agreed to pay the owners of the Hearst Ranch rent for the use of their property.
In addition, both the district's office and the water purification facility are partially built in the Pico Avenue right-of-way. The district compensated for their error by installing gravel on a vacant lot owned by Ron Hurlbert, without his permission, to allow vehicles room to turn around.
Both the district and Hurlbert's properties are zoned multi-family. Hurlbert, who has owned his lot for more than 35 years, had planned to build condominiums, though the construction of a water plant across the street is likely to diminish the value of the planned multi-family units.
Hurlbert is currently in negotiations with district officials.