Encampment fire burns trees near Cal Poly in SLO
March 26, 2023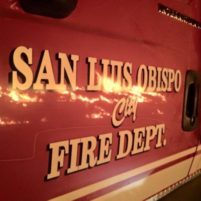 By KAREN VELIE
Tall flames shot into the air on Saturday night after a fire at a homeless encampment near Cal Poly in San Luis Obispo spread to multiple eucalyptus trees.

Shortly before 8 p.m., a caller reported the fire burning near 1 Mustang Drive, according to the San Luis Obispo Fire Department. Firefighters battled the vegetation fire, containing the blaze to a 50 feet by 50 feet area.
There were no injuries or structures damaged during the fire.
The exact cause of the fire remains under investigation.